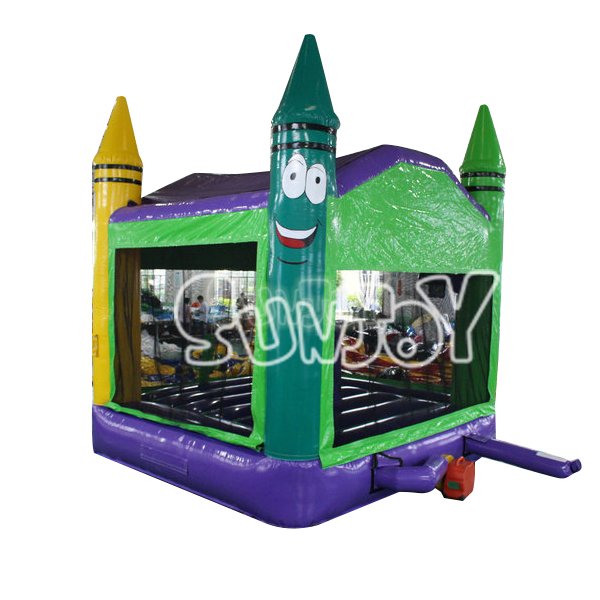 Squares and parks are good places for people to relax, and now some inflatable castles and slides are placed in squares, parks and other places, attracting many children to play. Kids like to play in the inflatable bounce house, and some parents also buy or rent some inflatable castles, inflatable slides, and other inflatable games in the backyard to make their kids happy, usually for the birthday parties, and family activities etc. When using inflatable jumpers and slides, safety should always be a top priority. Inflatable bouncy houses are usually safe, but in some bad weather conditions they may be dangerous. Set up an inflatable castle or inflatable slide in unsafe conditions may cause serious injuries.
About the safety of inflatable castle, Sunjoy Inflatables in the industry reminded you, kids must be forbidden to play in the inflatable castle outdoor in the windy days. The accidents of inflatable castle was blown over mostly happened in March and April late spring and early summer, and October when autumn turns into winter, there are many windy days in this time, if the inflatable castle without enough fixation at the bottom, it's easy to get blown over by the wind, in this weather condition, must not take your children to play, so as to avoid accidental injury.
Then how hard the wind can blow over the inflatable castle?
The Key Laboratory of "structural wind engineering and urban wind environment" in Beijing Jiaotong University has been tested. The experimental results show that the inflatable castle will be blown away and overturned when the wind reaches five or six degree, whether there is no fixed or a simple weight ballast.
Inflatable castle is generally five or six meters high, after inflated the volume is very large, inflatable bounce house stress area is very large, the quality is too small, the center of gravity is difficult to stabilize in the strong wind condition, and even swing with the wind, extreme easily to be blown over. At this time, simple bricks and sandbags ballasts are useless.
The wind is the biggest safety problem for inflatable amusement facilities. In fact, in our survey, if the wind is more than 3 degree, the inflatable castle will have greater risk of being blown away, and it is not recommended to continue the outdoor business. Sunjoy Inflatables MFG is a responsible manufacturer of inflatable castle, inflatable slides and inflatable water games, all products we manufactured must be rigorous safety tested. The windproof design of the inflatable castle using the D-ring, made of stainless steel, sturdy and good stability.
For safety, Sunjoy Inflatables remind the public, do not play inflatable castle in four conditions:
1. Do not play the unreinforced inflatable castles;
2. Do not play in windy days up to four degree;
3. Do not play if too crowded;
4. Do not play if the inflatable castle air pressure is insufficient.
Where to order safe bounce house and inflatable slides for your party rental business?
Sunjoy Inflatables has 11 years of experience in manufacturing inflatable bouncers, with a wide selection of inflatables for sale. We have
bounce houses
and slides combos in many themes, sizes and colors, and also offer a thoughtful customized service, whether you need a giant water slide or a fun
amusement park
for kids and adults, you will get a perfect solution here. Bulk purchase of our bounce houses and slides will get a great discount now.