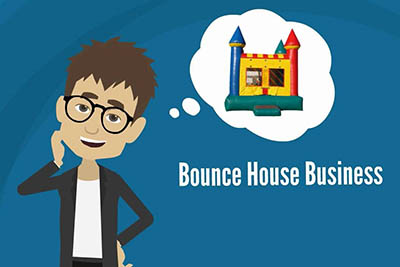 Bounce house rental business is no stranger to many people who want to start their own business and we all know it's really lucrative since bounce house rentals have soared in popularity in recent years. There are many things to consider before starting your business, mainly the profit potential. Many people asked how long it may take to make a profit. Here comes the maths. Although there are various factors that might determine the overall cost and the level of profits of your business, but we can still roughly estimate how much money we can make from bounce house rental business.
How does a jump house business make money?
No matter you are running an inflatable rental business or opening an inflatable play center, you can charge fees from each event you deliver a bounce house to or each child comes to your play center. In addition, you can host birthday parties for younger children with all inflatable equipment you have for a contracting rate.
Let's do some maths.
How much does it cost to start a bounce house business?
The investment can vary according to your business plan. But at least you will need to
buy a commercial bounce house
. Each commercial bounce house averages approximately $800 to $1500 in cost and $200 for shipping. If you need more inflatables, you will need to consider investing in at least one combo unit and one slide, this units will cost you approximately $1200 to $2800 each. You will also need to budget for a vehicle to deliver your bounce houses to customers, as well as a trailer. These are just basic costs.
For beginners, even if you don't need to rent a storefront, there are also some additional expenses you should consider:
1. Insurance
2. Blower
3. Extension cord and generator
4. Cleaning materials
5. Maintenance and repair costs
6. Labor/payroll costs
7. Misc Items: Sand bags, stakes, cones, duct tape
How much does inflatable insurance cost?
Like many other things, it depends. If you are dealing with an experienced agency they will take into account several things - the size of your business, how often you will operate during the year, and several other factors that are specific to the bounce house industry.
In order to get a good policy that will protect your business properly, it could start around $1,800 - $2,500 a year. If your business starts to grow with extra employees you will likely need to get a worker compensation policy as well as a commercial auto package. These are additional expenses to consider as your company grows.
How much profit can an inflatable bounce house business make?
The rental prices of inflatables can vary based on which market you are in. According to our survey, the regular 4-6 hours rental prices for standard 15ft bounce house without extra costs in some of the major municipalities around the United States are as follow:
Orlando -- $110
Denver -- $157
Minneapolis -- $162
Washington D.C -- $175
Dallas -- $128
San Diego -- $100
New York Metro -- $200
There was almost a 100% difference between the least expensive market (San Diego - $100) and the most expensive (New York - $200). The average bounce house rental price was roughly $150. Now you may know how much your business should charge for a bounce house rental.
According to the bounce house industry research, each inflatable can have an average of 1.5 rentals per week. $150 per bounce house rental x 1.5 bookings per week = $225. If you invest in 4 bounce houses, your business will draw in about $900 per week.
Let's say each of your 4 inflatable units (include bounce houses, combo unit and slide) is $1500, that means it would take you roughly 7 weeks to pay off each bounce house. In order to make your business more profitable, you can also consider to offer additional party services, such as popcorn machine, snow cone machine, tables, chairs, tents, decorations, sound equipment, arches, food and drinks, etc.
The beautify about bounce house rental business is that it's easily scalable. Everyone can start off slowly with just one to three inflatables, the investment will be minimal. If things go well, you will start to make a nice profit after two months. When you want to expand your rental business, you can always reinvest a portion of your profits to get more popular items like inflatable obstacle courses, interactive games, inflatable playgrounds, inflatable water parks, etc. Any questions about start your own bounce house business, please
contact sunjoy
to get an ideal solution!