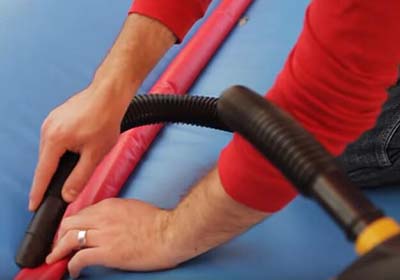 Cleaning is a very important part of bouncy castle maintenance, it's an easy but heavy job considering to its huge size. Whether you have a residential or a commercial bounce house, the regularly cleaning can absolutely increase the longevity of your inflatable and keep your child away from bacteria. In this article, we will show you how to clean an inflatable bouncer in 5 easy steps, and how to remove mold.
First you should understand the necessity of cleaning your bouncy house. The dirt and debris in your bouncy house can damage the PVC or vinyl fabric and stitches, because the dirt is abrasive and will wear the materials over time. In addition, most of the dirt and debris carry moisture, if you don't clean it in time, the moisture helps the mold grow and cause your inflatable damaged.
Now let's see what you need to clean your inflatable jumper after a crazy party:
Cleaner in spray bottle
Vacuum cleaner
Broom or small brush
Soft bristle brush for scrubbing
Several clean rags
Optional: a leaf blower
In general, the hard cleaners like bleach, bathroom products and solvents are recommended because these chemicals can degrade your inflatable fabric and should not to be in contact with the kids. Therefore, we recommend using regular household dish soap. For the best results, here is our secret cleaning formula. Use 3 cups of warm water and 1 cup of white vinegar, then add 2-3 drops of dish soap, shake or stir the liquid and then fill into a spray bottle. Remember that the ratio of water to vinegar is 3:1.
When you have all these tools and supplies ready, you can start to clean your bouncy castle.
Step 1: Sweep and clean with a vacuum cleaner
You must keep the bounce house fully inflated when you start cleaning. Adult is OK to go in the bounce house for cleaning. Use a handy size of broom or brush is more convenient for you. If there are a lot of dust or twigs on the inflatable castle, then use a leaf blower may be a quicker way. Then use the vacuum cleaner to suck out any dirt inside the seams, nooks and crannies.
Step 2: Spray dirty spots with cleaner
This step is very simple, once all the dirt and debris is blown or sucked out, spray down one panel at a time and scrub (next step). The cleaner liquid will accumulate at the seams, so it needs to be dried immediately. That's why you need to clean one panel at a time.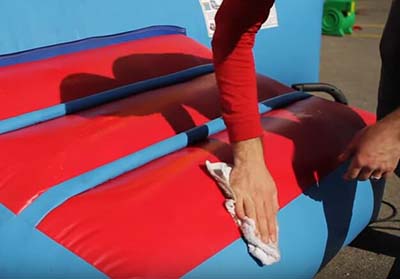 Step 3: Scrub with a soft brush
This step is done with the previous step. You can use any sort of rags or soft bristle brush. When you're scrubbing, make sure to get deep into the seams and stitching. Don't scrubbing too hard to cause unnecessary wear and tear on the inflatable bounce house.
Step 4: Rinse and pat dry any leftover cleaner
After scrubbing, you can rinse and pat dry the bounce house. It's not to say that hosing down the bounce house, this is not necessary and will take you a very long time to fully dry out. Just use soft rags to remove most of the moisture. Pay attention to the stitches, get in there with your rags and dry them as much as you can.​ For the loose dirt, spray the cleaner on them and pat dry with rags.
Step 5: Dry the bounce house before storing
Drying is the simplest step, you can just leave the clean bouncy castle dry naturally. Place it in the sun for about 3-4 hours or overnight, or use a leaf blower to accelerate the drying process. Don't store it before it's completely dried.
Cleaning mold off your bouncy castle
If you've found any mold spots in the nooks of a bouncy castle, you can use bleach to remove it. Don't just spray bleach on the moldy area, mix 50% bleach and 50% water in your spray bottle, and only apply bleach on the small moldy patch. Rinse the bleach off several times with a rag and water. Before you use the bleach, try the regular cleaner first and see how it works. Only if the regular cleaner is not working well you can use the bleach to minimize the fading of inflatable material.
At last, you don't have to clean your bounce house completely after each use, this depends on how long it is used a time and how many kids played in it at once. You may want to read more about the
cleaning instruction about quick cleaning and deep cleaning
.