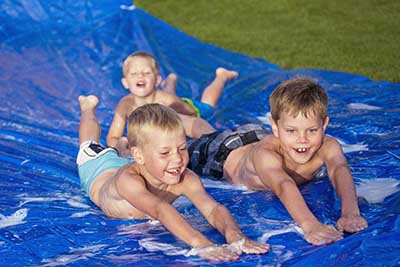 Every year in hot summer, many people like to build a huge slip and slide on the beach or in the backyard to have a blast with their kids or neighbors. Some of them will try to build a simple slip and slide by themselves with simple materials to save money. The whole work is not difficult, many people do it every year, but choose the lubricant to make the slip and slide slippery is not so easy. You should consider about the cost, safety and other aspects. Le's see how to make your DIY slip and slide more slippery.
The self-made slip and slide is usually a roll of plastic sheeting with fixation. Then use a layer of lubricant across the plastic sheeting so that people can slide down to the end on top speed. Usually only water is not enough. Some properly lubricant is necessary. The most common lubricants are oils and soaps. For example, you can use baby oil to make the slip and slide more slippery, the effect is very great. Kids and adults can enjoy a slippy day. But there are some issues you might be concerned about. The baby oil will be very greasy and some people may feel uncomfortable about it. And the cost is also a question.
Another common lubricant is the soap, we can find the dish soap in the kitchen, or use the body soap. This kind of slippery soap is very useful, produces many bubbles and add extra fun for the kids. What's more, the soap is very cheap and you can find it very easy. Pour a generous amount of dish soap onto the slip and slide and enjoy the cool water sliding. Be careful, many soaps would burn your eyes. So watch your kids when they playing with the soaps or you can use the tear free soap. This may be a little more expensive.
Let's make a list of all the common lubricants we can find in life. The dish soap, body soap, shampoos, laundry detergent, petroleum jelly, baby oil, vegetable oil, etc. The above lubricants are very common in our kitchen or bathroom, and not very expensive, perfect for the daily use to make your slip and slide slippery. You can also talk about it with friends on Facebook, some people may have great experience for you. Be careful not to pollute the ocean or your local river, otherwise, other people will complain about what you do and you can not enjoy playing any longer.
That's how to use lubricant to make your DIY slip and slide more slippery. If you can't wait to build a slip and slide to enjoy the cool summer time, then you can choose our high quality inflatable slip and slides. The
inflatable slip n slides
are more comfortable than a single plastic sheeting, kids and adults will be better protected. And the lubrication methods are the same.
Contact Sunjoy
today to get durable and fun inflatable slip and slides for your summer entertainment.