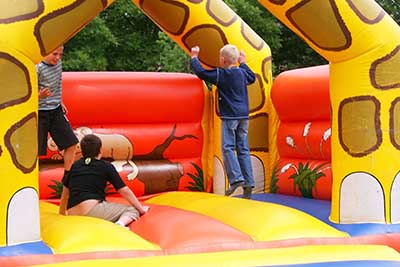 Children of all ages enjoy bouncing and playing in an inflatable jump house, no matter you rent a bounce house for your kid's birthday party or bring your kid to someone else's birthday party, your child will have a chance to have fun the bounce house. Although the physical exercise can be good for the kid's health, you should remember to keep an eye on your child all the times. Because accidents can happen in such a small space when multiple children play together.
To prevent your kid from injury while bouncing, you need to take some specific steps. Firstly make sure the inflatable bounce house is set up safely, and fixed to the ground firmly. Keep the inflatable bouncer steady is the premise to play safe. And kids play rough in a bounce house is more likely to cause collisions. Before your kids enter the inflatable jump house, make sure they know the safety rules clearly.
The injuries from bounce house can be bumps, bruises and contusions, etc. While two or more kids bouncing and jumping in the same bounce house, they can not control their bodies in the air, so collisions are easy to come by. The more players in the same bounce house, the more easy to cause collisions.
And older children usually perform more violent actions than younger children, such as jumping harder or flipping, these actions may cause injuries to the younger children. Whether the older or younger kids, they do not always know how to protect themselves in this environment. Besides, assuming they know how to keep themselves safe, how much they will remember while having fun? They may not pay close enough attention to others around them while they jump.
So it's important to separate the kids by age or weight, so different sizes of children will not bouncing together at the same time. Kids are divided into different age groups, they take turns to play in the bounce house, so the bigger and more energetic jumpers will not affect other little kids who do not jump wildly.
Adults should always keep an eye on the kids inside the bounce house, make sure they will not fight with each other. If they are too many kids, make rules about kids of different groups taking turns and force them to follow. Red the instructions of inflatable jump house, the total weight of kids can not exceed the limit. You can let six small kids to bounce at one time, or you may let three big kids to jump at one time. Separate two kids if they are too close can reduce the collisions. No kids enter the bouncy house if there is no adult on duty.
Now you know the
safety rules for bouncing in a jump house
, you can keep your child safe from injuries if you and your child follow the rules. Safety is more important than happiness! Sunjoy Inflatables is a professional manufacturer of children's bounce houses and other bouncers, we make the safety rules clearly on all our bounce houses, if you have one of our inflatables, read the safety precautions first. Check out our diverse inflatables and get yourself ready to start a great birthday party.