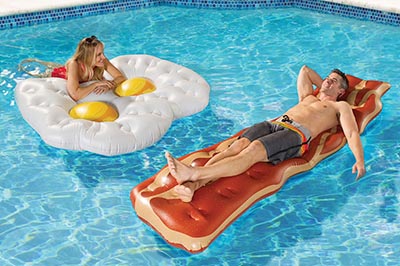 In hot summer season, various inflatable pool floats can be your most commonly used water toys. Whether you have a swimming pool in the backyard or go to the beach, a pool float can bring you a full day of fun. For individuals, everyone should have at least one inflatable pool float like floating lounger or inflatable donut for the long water-fun season. You don't want to wait a few days for your new pool floats to arrive and watch others have fun because your own inflatable is broken due to your carelessness. So it's important for you to know how to use and store it properly, especially for pool floats rental business owners to protect their investment. Here are some useful tips you'll want to follow.
1. Don't just use your inflatable water toys as soon as your take them out of storage. You must thoroughly inspect each pool float to see if it is damaged, make sure there are no punctures or tears present before using it. If you find any leaks in your pool floats, use the specialized patching kit to repair it.
2. Pay attention to the seam cracks of your pool floats, if these cracks appear again and again and your patches don't work, then you have to discard it and buy a new one as soon as possible. If it has been less than a year since your purchase, contact the manufacturer to see if the warranty is still available or if there is any chance for a replacement.
3. For your safety, never use a leaky pool float. If you just completed patching, don't forget to check if it works before floating in your pool.
4. Keep all sharp objects away from your inflatable pool floats whenever possible, such as the knife, keys or ring. If you want to use other water toys like plastic sticks and water guns on the pool floats, you must be very careful.
5. If you find your pool floats leaving debris in the pool, please pick up all the debris in the pool and show down your pool filtration system. Because the vinyl or plastic of inflatables can be devastating to your motor and filters.
6. When you get out of the pool and please keep in mind that don't leave your pool floats in the pool overnight. Some people may wonder why, the vinyl of your inflatable pool floats will break down over time due to the exposure to the pool chemicals, sunshine and heat. Therefore, take your inflatable swan float with you when you enter the house.
7. If you want to store your pool floats after use, remember to clean them with clean water not the pool water. Because there is a lot of chlorine and other chemicals in the pool water and the residues attached the the pool floats will continue to break down the vinyl while in storage. So you'd better rinse them off with a garden hose, then allow the inflatables to air dry before deflation and storage.
8. At last, store your pool floats in a cool and clean place, your loft, garage, shed or anyplace can offer consistent shade and reasonable cleanliness. Pack it in a bag if you don't use it in the winter.
Have fun with your
inflatable pool floats
in this hot summer! Sunjoy Inflatables provides a variety of pool floating toys and water games with affordable price, inflatable swan, donut and water tubes for single person, big floating island for multiple people, giant floating icebergs and floating obstacle courses for pools and so on. Select your favorite inflatable water games and pool floats today!