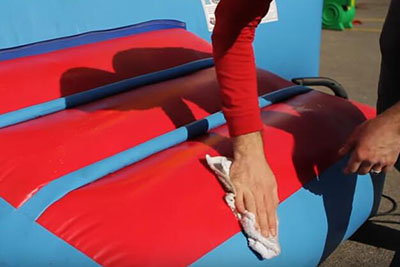 After the long cold winter season, it's time to take out all your storage
inflatable bouncers
and get ready to bounce into spring. No matter you are an experienced party rental business owner or just an individual bounce house owner, the warm spring season is a good time to clean all your inflatable units like cleaning your own house, to get ready for the active summer. This is particular important for bounce house rental companies. Imagine that how awful is that when your customer set up a jump house for their kid's birthday party and it smells like "urine"! This will tarnish your company reputation seriously. Let's see how to prevent this from happening.
Before you package your inflatable moonwalk jumper into the bag for a long winter season storage, I'm sure you must have been told or realized to clean and dry the inflatable structure before it can be stored. You can find our professional cleaning steps of bounce house by
clicking here
. But after a couple of months, you don't know what would happen inside. The folded PVC/vinyl fabric and enclosed environment can be breeding grounds for bacteria. That's why you should set it up and give is a good inspection before you can rent it out. If you find any mold and mildew or smell a foul odor, you must spend some time to remove the mold out of your inflatable thoroughly.
Before you start to clean and disinfect your bouncy castles, let's see what useful cleaners and disinfectants you can get from the market. The following are some recommended traditional and all-natural cleaners for you:
Lysol Disinfectant Spray
OdoBan Odor Disinfectant
MonoFoil Antimicrobial Spray (Kills Staph virus)
THIEVES essential oil cleaner (all-natural cleaner, kills MRSA and Staph virus)
Red Lion, PA - doTERRA On Guard cleaner (all-natural cleaner)
Simple Green d Pro 3