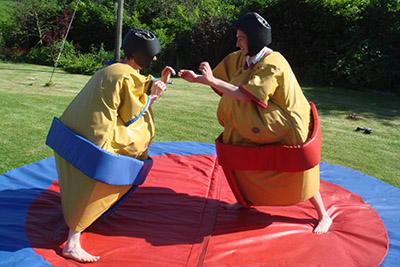 Wearing a Japanese sumo wrestler suit to fight against another wrestler, or seeing two bulky men with massive arms and legs and large protruding bellies, battling and grappling each other, both are quite amusing and entertaining. Both kids and adults can have fun with the sumo suits and they are a great idea for any party or event. These colorful and funny inflatable body suits can make you look like a sumo wrestler and protect you from wrestling harm.
Where you can use sumo suits?
A fun sumo wrestling match only needs two participants, so you don't even have to wait for a large gathering. You can use it anytime and anywhere you like, such as a birthday party, family reunion, school activity, fund raising function, street performance, etc.
How to use sumo wrestling suits?
In a sumo wrestling match, two people will put on a fat sumo suit and then walk onto a sumo wrestling mat which can be considered the wrestling ring. Then they can attempt to wrestle with each other and knock each other out of the sumo mat. Because the suits restrict movement, and the rules state that you cannot use your hands to life the suits up. The end result is an extremely amusing sporting event where participants have to raise their arms and shoulders to keep the suit up while they are running around. Both participants and people watching on the sidelines are entertained.
For a Halloween party, these inflatable sumo suits make your party more fun and exciting. Adults can wear a sumo suit to pretend a sumo wrestler and play around with kids.
Tips for sumo wrestling party:
1. First, set some competition rules.
2. You can blind folding the sumo wrestlers or spin them around to make them dizzy before the game to make this wrestling more amusing.
3. Or you can armed the sumo wrestlers with soft fighting sticks, axes, swords and shields to make it more interesting.
4. You can set a specific rounds of wrestling, and the final 2 winners will battle it out to become the sumo wrestling champion.
Buying or renting a complete set of sumo wrestling equipment is a great way to get the crowd involved in your party.
Where to get the sumo suits?
You can easily purchase these inflatable suits or even acquire them on lease. Before you buy or rent, you need to know what will you get. There are two kinds of sumo suits available on the market, the padded suit and the inflatable suit. The paddled sumo suits are made up of PVC material, waterproof and corrosion resistant. And inflatable sumo suits are made of rubber of soft plastic. The inflated body gives you a sumo look, much lighter and convenient to use.
Whether you decide to buy or rent your inflated sumo suits, they usually come with some essential accessories like headgear and belly rings. Everything for a sumo wrestling party includes two sumo suits, two inflatable liners to go inside the suits, two head pieces for protection against injury, one wrestling mat and one inflation device. The suits usually have two sizes, the child size and adult size. Make sure you get the right size for your guests.
How much does it cost to buy or rent a set of sumo wrestling fat suits?
Compared to the traditional bouncy castles, inflatable sumo suits are much less expensive to buy or rent. If you only use them once or twice a year, renting is a cost-effective solution and most rental companies will charge you no more than $200-$250 a day. But if you and your friends will enjoy these fat suits on a regular basis, it's highly recommended to buy from China manufacturer. The price depends on the material you choose.
The sumo suit wrestling is a fun and exciting way to spend a night or afternoon party and fun for every guest never stops! Contact Sunjoy Inflatables today to buy your unique and high quality inflatable sumo suits. A variety of themes like Santa sumo suits and
Viking pirate wrestling suits
are available according to your needs.