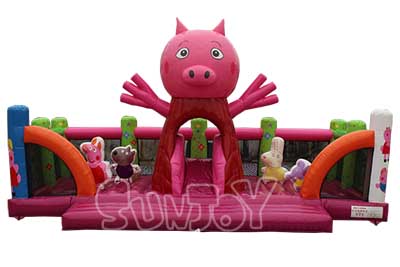 In the inflatable industry, we know that bounce house can be divided into two categories, commercial grade and residential. It's not easy to see the difference from the appearance, but you can see from the price. The residential bouncy castles are often sold to the parents for the backyard use, and the
commercial jumping castles
are often sold to the party rental company or other large commercial events organizer. The most simple and important thing you need to know is that commercial bounce houses are much durable than residential.
The biggest difference between residential and commercial bounce houses is the materials. Our commercial grade bouncers are commonly made of heavy-duty PVC tarpaulin, which is also called PVC netted sandwich cloth. The high quality PVC material is over 15oz, flame retardant and water proof, durable and resistant to tearing. And the residential inflatable jumpers are used the heavy-duty nylon or polyester oxford, which is lighter and less durable than PVC tarpaulin. For the PVC fabric materials, the heavier the more durable. But in order to make the commercial moonwalks not so heavy, manufacturers will use the different weights of materials to make the bounce house. Such as we use 15oz and 8oz PVC materials to create the bounce house, 15oz used in the contact and worn surface, 8oz used in the top cover which is not contact with the players.
From the materials, we can confirm that the commercial inflatables can last much longer than the residential inflatables. In general, the common residential jump house can be used six months to one year, and the commercial bouncy house can be used at least three years. Besides, commercial bounce houses and slides or other inflatables have the additional repair kit, they can last over five years. So it is no wonder that the commercial bounce houses are much expensive than the residential jump houses.
For the intended use of inflatable bounce houses, commercial inflatable products can be used in many rental business occasions, such as the amusement park, carnivals, trade shows, shopping malls and other parties and events; and the residential bounce houses are usually used in the family backyard or indoors. From the application we can see that the two types of inflatable bounce houses have different target groups, commercial bounce houses contact with much more people than residential bounce houses, and usually have larger sizes. The commercial jump house with 10 feet to 80 feet long can entertain 4 to 10 riders at a time, and residential bounce house can only entertain 2 to 4 riders at a time with about 10 feet long. More people jump inside the commercial bounce house, higher wear and use more frequently, proved that commercial bouncy house has a higher quality.
Now you must understand why the commercial bounce house is much better and higher price than the residential. If you are planning a birthday party or party rental business, choose the right inflatable bounce houses to buy. Sunjoy is the professional manufacturer of inflatable bouncers, we have a variety of commercial grade bounce castles for sale for the party rental companies, and also have many cheap and nice residential jumpy houses for sale for parents with children. All the durable inflatable bounce houses can be customized according to your practical purpose.