Now it is autumn, do you think the best party time is gone? In my opinion, autumn can also be a good time for outdoor parties as summer. I believe many people enjoy themselves in this past summer, went to the swimming pool parties to have a cool summertime. But in autumn, we can also host some fun parties with friends and families get together. It's not too cold or too hot, and many holidays in autumn so we all have times, so it's a good choice to throw a party to enjoy the outdoors. You may need some ideas to make people happy in your party.
The Campfire
In the forest or outdoors, light a bonfire is a very good way to light up a happy atmosphere. People can sit around the fire, dancing and singing or playing games. People can also keep warm by the fire at night, and illuminate the party. You can built the campfire at your backyard, by the sea, in the forest and so on.
Food and Drink
Of course, food and drink is an essential part of a party. Food and drink is a very important part of fun, people come to your party and want to have some delicious food before leaving. At your autumn outdoor party, you can make some foods by the fire, such as the barbecue, baked corn, hotdogs, or some seasonally themed foods like pumpkin pie, roast turkey and apple cider.
Fun Games
After drinking some wine, people need to have some games to have fun. You need to have some interesting activities to entertain your guests. In autumn, the party theme is no longer swimming pool and water, but the revelry like carnivals. Think a theme for your party, then looking for some fun activities and try your best to make people laugh.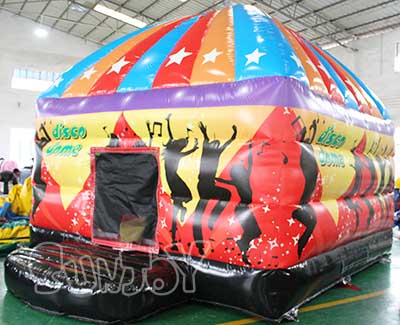 Inflatable Disco Dome
The best inflatable for autumn parties is the inflatable disco dome. It's a bounce house with disco music and lights. People can dancing and singing in this fun disco dome bouncy castle. The bounce house is a very good way to entertain kids at outdoor party, but the
inflatable disco dome
is enjoyable for both kids and adults. People jumping inside this disco dome like they are dancing at a disco. Follow the music to shake your body, everyone is happy to join the party. You can buy or rent an inflatable disco dome for your autumn party, it's portable and easy to set up. And special area designed for the lights and sound system.
On the market, you can find more fun inflatables perfect for your autumn outdoor party, such as the inflatable obstacle course, inflatable sport games, inflatable bubble soccer balls and so on. Sunjoy Inflatables is a sincere inflatable factory from China by providing favorable price and professional services. We have hundreds of party inflatables suitable for any themes and times. You can even find the special designed bounce houses for winter parties. Choose some fun inflatable games to amuse yourselves and friends at your autumn outdoor parties.