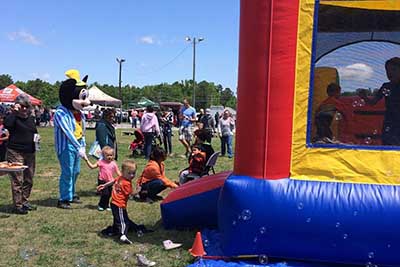 Bouncy castles are the best playground for little kids at their birthday parties, more and more parents will rent a bounce house for their kids at that day. They can play with their friends for all day long, bouncing, jumping, climbing and sliding. Completely safe while having fun. A birthday party with a bouncy castle or other inflatables will be more popular with children. So, if you want your kid be popular in their friends, throw a bouncy castle party for your child on his or her next birthday!
Here are some reasons why bounce houses are popular with children:
1, Cool Appearance
Kids love the cartoon and movie characters, they usually have the corresponding toys. If you give them a corresponding big house that then can get inside, they will feel very excited and can't wait to show it to their friends. The inflatable bounce houses have many shapes, like castle, family house, mushroom, dome, etc, with a lot of themes, such as jungle, animals, pirate ship, princess, birthday cake, robot and so on. In these selections, kids can imagine they are one of the characters in the fantastic world. And the bouncy castles usually come with bright colors which are hues that kids naturally gravitate to.
2, Playing Games
The bounce house is a fun game, but it's not only a game. It can be the little world for kids to play interactive games. The bouncy castle is pretty safe for kids to jump. Some combo units feature with more games, such as the obstacles, basketball hoop, climb and slide. In addition to these games, children can also sit down in the bounce house to play their favorite games, or singing and dancing. The bounce house is surrounded by bumper walls and safety net, the floor and walls are soft, kids don't need to worry about bumps and bruises.
3, Have Fun With Friends
The bouncy castle is like a big toy that kids can invite their friends to play together. There is nothing happier than the kids to make themselves and their friends have fun. Kids can satisfy the vanity and feel welcome. Besides, if you rent an inflatable obstacle course unit in the backyard, your kid can compete with their buddies to enjoy the pleasure of victory.
4, Playing Outdoors
Most kids enjoy playing outdoors, but the rest prefer playing video games. The bouncy castle party is a good attraction to let the children go out. They can have a breath of fresh air and join their friends to play games. Bouncing is a kind of fun exercise good for health. When children jumping and playing in the bouncy house for hours, they are doing aerobic exercise, burn off the excess energy and have a good sleep in night.
Now you know how much the kids love bouncy castle party. Whether you are the party rental business owner or parents planning kid's birthday party, sunjoy have the most types of inflatables for you. From the simple
bounce house
, to the
combo unit
,
obstacle course
and
amusement park
, we can help you create a unique inflatable playground for the kids.