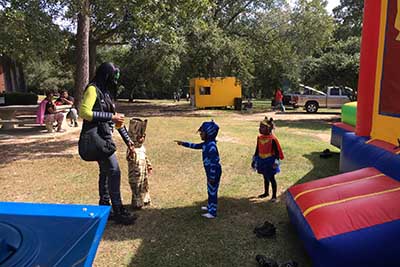 Birthday parties are great way to have fun with a lot of friends, more and more people like to plan their birthday parties more unique and extraordinary. The theme parties are very popular, so some people may think of the carnival theme party. A great carnival will have great events and attractive to many people, so you also want your party as great as the carnival. You can easily to plan a carnival theme party for your children, with the following key elements.
Inflatables
Without a bounce house, the kids birthday parties are not complete. A large carnival will have many fun outdoor games for the guests, so you should consider renting several inflatables at your child's birthday party. A bounce house is essential, and if you want to entertain the guests of all ages, get more inflatables such as the combo units, inflatable slides, sport games, obstacle course and so on. According to your venue size, arrange one to multiple inflatables for the party. Everyone can find a favorite game at the party or they can play them one by one to have fun, then your party will looks more like a great carnival.
Foods and Drinks
Would you looking forward to a party without delicious foods and drinks? No one will like it. You can arrange the party like a buffet, provides various of foods and drinks on the tables, such as the birthday cake, barbecue, hotdogs, candies, fruits, ice creams and several drinks. Whether kids or adults will love this party by enjoying these delicacies. You can also make some special foods correspond to the theme, like corns, animal crackers, turkey and pumpkin pie, apple juice, etc. In addition to the inflatables, you can also rent the popcorn and cotton candy machines, too. So kids can look for their favorite foods around the party, like they are in a carnival.
Games and Decorations
You can rent some fun sport games from the inflatable rental business, such as the
leaps and bounds
, wipe out games, wrecking balls, hippo chow down, obstacle courses, climbing wall and so on. Children can play game by oneself, or can compete with friends. You can also get some game ideas from the real carnivals, such as renting a circus, fun balloon shooting game and other amusement equipment. Decorate the whole place more like a carnival with inflatable arches, air dancers, inflatable booths, beautiful banners and flags and so on.
Anyway, if you can find anything would be in a carnival at your party, then you party will be as great as a carnival. I am sure it will be very popular and fun and can't wait to join in. If you want things to be easy, find a open place you can get, and then call the party rental company in your local and find what they can offer for your great carnival theme party. Basically you can get all the entertainment equipment at one store. Look at our inflatables to help you make a plan before you go to the rental stores. Any equipment you can't find in your local party rental companies please contact us and we will make it for you as soon as possible.