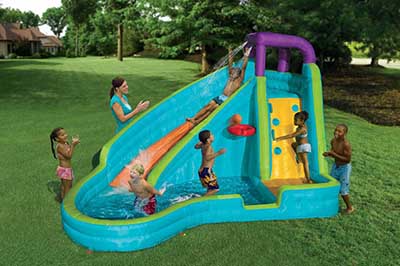 Many people plan the family party inside the house and in the backyard, according to the actually place, the backyard party can be arranged into a great fun party. The inflatables are usually there for additional fun, especially at the kids birthday parties. However, before you buy or rent a bounce house for the backyard party, you need to measure your backyard and make sure the backyard size is suitable for the inflatables. You can draw a epure for the scene, consider the specific size of the bouncer, the entry area and buffer space, other decorations and so on. All the backyard details must meet the requirements of a
backyard bounce house
party, and you can get the standards from the inflatable rental company.
Inflate a large bounce house or other inflatables in a small backyard is a bad idea, the bounce house could be damaged by the backyard walls or tree branch, and the players might get hurt by sliding into a bush. So the buffer areas for the bounce house are required. The how to figure out the size you need? Let's make the assumption that the square bounce house for your party is approximately 15 feet tall and wide, the the space of this inflatable unit need is 16 feet in all directions. Leave another 6 feet space on the blower side and entry side, allow some leeway for the set up, anchoring and rooms for players to get in and out.
For the larger inflatables, such as the inflatable water slides or obstacle courses, need more space according to the inflatable size. The inflatable water slides are usually 18 feet to 60 feet or even larger, and the big water slide may include two parts, the slide part and the landing part, for example, some water slides will have a splash pool or a swimming pool at the bottom of the slide, and some other water slide may have a
long slip n slide
to skid across. Water slides with slip n slide landings can extend as far as 70 feet, and the round inflatable swimming pool can be as large as 30 feet. Measure your backyard before you decide the specific inflatables, if your backyard is very long, then you can choose the water slide with long slide n slide. The other obstacle courses requirements are probably the same.
In addition to the size, you should also check the ground surface for the inflatable. A bounce house needs to be on a relatively level surface, the steep grade or large hills are not so fine. You can also adjust measures to local conditions, like set up the water slide on smooth surface and the slip n slide on the down hill. In general, the flat surfaces like grass or parking lot are best for inflatable bounce house, and make sure that the electrical outlets are available within 100 feet. The size, surface and grade of the backyard are the factors of inflatable installation, ensure you have a suitable backyard before you plan the bounce house party.
Once you've secured the perfect setting for your inflatable, call your local inflatable rental business and enjoy the fun backyard party with friends. Any questions about the inflatables please leave a message to sunjoy.