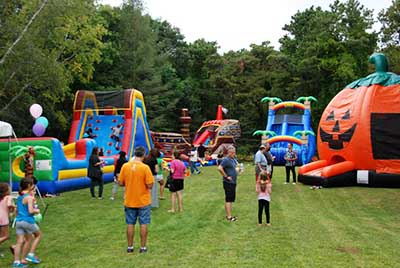 There are a lot of fun inflatable games for kids and adults, we can see one or more inflatables at the birthday parties, and we know kids love the inflatables very much. But do you know how to choose the right inflatables for different age groups? Let's talk about this today.
For children under two years old
The commercial use inflatable bounce houses are not designed and made for this age group of kids, because they are two young to play on the inflatables. Actually, they can not be alone without parents or baby-sitter. Most of them can not walk very well, needless to say bouncing and jumping. Sunjoy inflatable safety experts agree that children of this age can only crawl on the flat inflatables with parents around.
For children of 3-4 years old
Most children around 3 or 4 years old are very curious about everything, they love to play
bounce house
with siblings. When you decide to rent a bounce house for this age group, choose the simple jump houses without too many obstacles. They are happy with simple bouncing and yelling. Keep in mind that don't rent a large inflatable bouncer that is not suitable for this age group, such as the large slide or obstacle course. They might be scared.
For children of 5-10 years old
Most of inflatable bounce houses are specially designed for this age group. They can play many kinds of inflatables, such as
bounce house combo
, kids inflatable obstacle courses, inflatable wet and dry slides and so on. They want more than a simple bounce house. So it's very suitable for them to play inside a large inflatable playground. They can bounce, jump, crawl, climb and slide. At this age, some parents may teach their kids how to swim. So the inflatable pool is also suitable for this age group of kids in hot summer. They can play in the inflatable water park with their parents.
For children of 11-18 years old
This age group of children are more active and adventurous, they are past of the age playing with bounce houses. They want something more challenging like obstacle courses and interactive games. This age group of kids want to compete against each other to prove they are not children. The perfect inflatables for the group include the inflatable boxing ring, jousts, rock climbing walls, bungee runs, sport games, obstacle races, etc. They will also love the giant inflatable water slides and slip-n-slides.
For adults
The adults can participate in all inflatables. Most of our commercial inflatables handle the adult weight. The most popular inflatables for adults include the large inflatable obstacle course, superb inflatable slide,
mechanical bull
, bungee trampoline jumping, zorb ball and water walking ball, large water park, inflatable banana boat, fly fish boat and other exciting games. Adults can choose so many inflatable games and have fun with their kids or friends.
The fun of inflatables is really endless!
Contact Sunjoy
today to creative your unique inflatable fun park. Whether you use it yourself or renting out, we have the most affordable solutions for you.