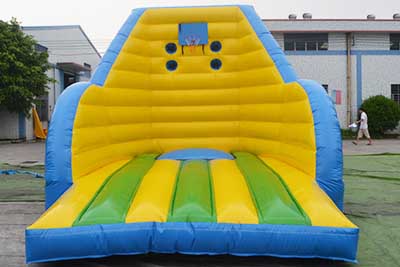 Many parents want to develop their child's interest in sports, such as soccer, basketball, baseball and so on. But some kids are too young to participate in the sport games. They might get hurts if compete with opponents. So, the inflatable games came up. Interactive inflatable games make the sports even more fun and safe for kids. Children can play all the inflatable sports while having fun. Our interactive inflatables provide endless game possibilities, little players can find much more fun from these games than the simple bounce house. The interactive games can be the new popularity in the birthday parties and other fun events. What do you know about them?
1, Inflatable basketball game
There are several kinds of inflatable basketball games for the kids, like fast shooting or jump shot. With a large inflatable structure, players can shoot the basketball from the 3-point line, or run-up and bounce higher to finish a slam dunk! Of course, it's much easier to score than the real court. Not everyone is a basketball star, but we can pretend to be superior in this interactive inflatable. When kids find it very easy to play basketball and score high, they will be more interested in this sport and someday he might be the next Michael Jordan!
2, Inflatable boxing ring
An
inflatable boxing ring
is a more safer arena for the kids. They can put on a pairs of giant inflatable boxing gloves and protective headgear, use your skills and strength to knock out your opponent, imagine you are in the real boxing ring and winning a boxing match. How exciting is that! The inflatable gloves are practically half the size of human body, the hitting is not painful at all. Kids can fight as harder as they like. While they get much fun from this game, they might be the next Muhammad Ali some day in the feature.
3, Inflatable jousting arena
The inflatable jousting arena is another fighting game. Two players dress like a gladiator and stand on the specific pedestals, use a large and soft jousting stick to strike, swat, and nudge each other off. The fun of this interactive game is that you can hit your opponent with a over-sided joust pole, and keep your balance while the other guy fighting back. Your child may not be a real gladiator in modern society, but he can still have fun from this physical game, and tests his skill and dexterity.
There are more
inflatable sport games
suitable for kids and teenagers, such as the 4-in-1 / 5-in-1 ball shooting games which combines basketball, football, soccer and baseball. And you can also bring a giant inflatable climbing wall to the birthday party, offers the guests rock-climbing challenge. If you don't want a bounce house at your party like other else, then an interactive inflatable game is your perfect choice. It certainly can provide all your guests endless entertainment and guaranteed to be a hit at your event! More interesting interactive inflatable games please browse our website and send us an email today.