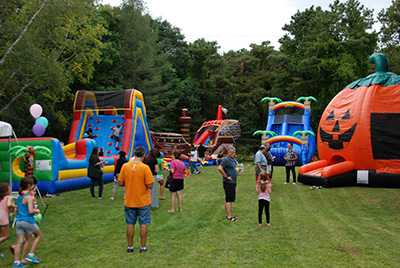 When your child's birthday coming, renting a bounce house in the backyard will make this birthday party the biggest thing in your community. In nowadays, the bounce house start to become a big crowd favorite at the parties, especially kids birthday parties. If you have not rent a bounce house for your kid's birthday before, here are some useful tips to help you.
Choose a bounce house. There are a variety of inflatables in the party rental company, you can choose a beautiful jump house with fun theme that matches your party theme. If you don't know what can a child do in the bounce house, you can search some videos or ask the party rental owner. In addition to the size and theme, you should also know that some of the bounce houses featured with a slide and basketball hoop. Take the most playful one that can entertain your child for hours.
Set up in the flat place. Find a big enough open place in the backyard and make sure it's flat. Before you rent the bouncy castle, you should measure the size of the location where you want the bounce house to be. Clean the ground and make sure there is no sharp objects. The big inflatable bouncer should be inflated on a flat place and anchored firmly.
Clean the jump house before you let your child play. The inflatable bounce house can be used for people before you rent it, so it might be very dirty if the rental company do not clean it every time. So it's necessary for you to clean and sanitize this bouncy house before the party begins. This will ensure that everyone stays healthy.
Use it safe. Check the bounce house again, ensure it's in good working condition. Read the safety rules carefully and make sure every child walk in this bouncer follow the safety guidelines. For example, you should know that no sharp objects are allowed to be brought into the bounce house, each inflatable has its weight limits and control the number of children playing at the same time.
Always keep an eye on the bounce house. Inflatable bounce houses are pretty safe but it still required an adult to monitor. Whether there is only one kid or many kids playing inside the jump house, sometimes things can get rough and parents should avoid accidents by keeping watch.
In addition to the above tips, you should do your research to ensure the party rental company is qualified and licensed and insured before you make an order. You can also ask them where the inflatable come from and what kind of materials they use. For example, the
inflatable bounce houses
manufactured by Sunjoy are in compliance with the top material standards. Kids can jumping, bouncing, kicking and smashing inside the commercial grade inflatable bouncers. Get ready to call your local inflatable rental business and throw a great bounce house party for your child. Any of the inflatable bouncer questions you can also contact sunjoy the manufacturer for help.