When winter passes and summer comes, the temperature rises and the first thing people want to do is jumping into water. It's the popular season of water parks. Kids and adults keep going to the local water parks and enjoy the cool water games for summer long. Some of them even if build their own small water park in the backyard with portable inflatables. But if you want to play as hard as you can, the
large floating water park
on the beach or lake is your first choice. Summer is not far away, let's see how many kinds of inflatable water games you can get from sunjoy to make your water park more exciting and enjoyable.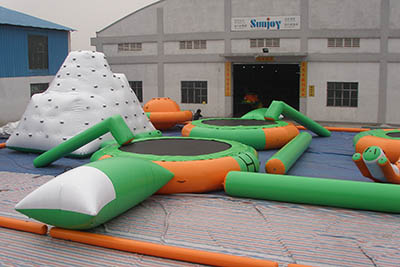 Water Trampoline
Inflatable water trampoline is the most popular water game for floating water park. It's has a regular size and can be connected to any other inflatables on the water surface. It can be made into round shape or half-round shape according to your water park design. The structure of inflatable water trampoline is very simple, a big inflatable ring on the bottom, a strong bungee mat on the surface, connected by bungee cords or springs. People climb up by a rope ladder, then begin to jump and bounce and fly into water. Or you can jump to another lower trampoline from the higher trampoline, like a super kangaroo. It has been so excited just imagine that.
Floating Iceberg
Climbing iceberg is an essential game for the floating water park. It's like the rock climbing wall game, but floating on the water, much more safe and fun. Children and adults can swim to the bottom of the iceberg, and then climb up to the top to enjoy the height above the water. You can choose to slide into water by a giant slide, or just jump into water from the top of inflatable iceberg to make a splash. The are a lot of grab handles on three sides of this iceberg, you can compete with your friends and see who is the first to climb up.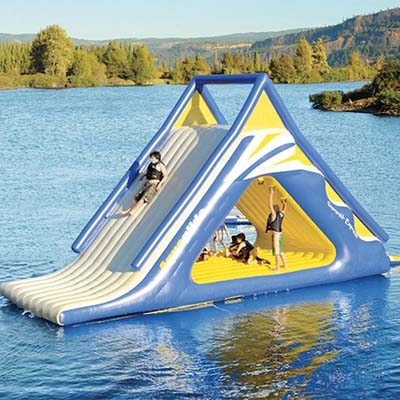 Floating Water Slide
This big inflatable water slide is also a resting area on the water. Triangular structure design, one side climb and one side slide, and the below is platform. Inflatable slide is an very exciting game for kids and adults, this floating water slide is very easy to climb up, and straightly slip into the water. Unlike the lane inflatable slide, you don't have to worry about fall off the slide, because you will fall into the water. If you are tired, you can swim to the middle resting area to have a rest.
In addition to the above three big water games, there are still much more fun water games you can choose for your water park. Such as the inflatable rocker, water seesaw, catapult blob jump, balance beam, monkey bar, bridge, wheel and obstacle courses. Sunjoy Inflatables is your best supplier of inflatable water parks, whether you are planning to start a new floating aqua park, or looking for more exciting water games for your customers, you can custom the fun
water games
or get a free water park design at sunjoy. Make your water park get ready for the upcoming summer!