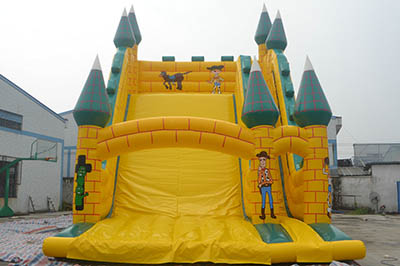 When you are planning a birthday party for your kids, you will call a local inflatable rental company to rent a bounce house or other inflatable equipment. They have great inflatable games to entertain all the kids at the party for hours and makes your party more enjoyable. But how can you make a good decision when you have many options for your party inflatables? Well, you can think of this question from the rental business's point of view, what makes a good inflatable rental company? You can refer to the following aspects whenever you need to rent a bounce house for the party.
1, Have various of inflatables.
More and more people starting an inflatable rental business, some of them are pretty small, so you need to make sure that this rental company have a variety of inflatables for rent. For party planner, the more is always the better! A wide range of inflatables will make it easier for you to find a perfect bouncer for the party, such as the bounce house, combo units,
inflatable wet and dry slides
, interactive sport games, obstacle courses and so on. Whether it's summer or winter, whenever you throw a party, they will always have a suitable inflatable for you. And if you want to throw a themed party, you can easily find a lot of inflatable bouncers on this theme.
Besides, if you are planning a great party for your business or organization, you can easily to ask for a discount if you rent by volume. Large event and party will need many inflatables, like amusement park includes bouncy castles and slides, or carnival with many inflatable sport games. In addition to saving money, but also save your time. You can find everything you need in one place, that's great you don't have to go to other stores. Saving time is an excellent benefit the well-equipped inflatable rental company provides to you.
2, Set up and take down inflatables for you.
A professional bounce house rental usually includes the set up and take down and delivery. Inflatable bouncers are big equipment, kids are not allowed to play without the monitoring of a skilled operator. The safety of inflatable bounce house is very important, professional inflatable rental company will send staff to set up the bounce house for you, and take down when party is over.
3, Quality inflatables and good customer service.
A great inflatable rental company with a few years of experience not only can provides you the best party inflatables, but also a good customer service. They can give you expert advice on the entertainment of your party, sometimes they can make a compete party plan for you according to your requests if you are new in the party world. You can also see more details of the inflatable rental company, responsible company will make sure you understand all the safety rules and show you how often they clean the inflatable bouncers.
Well, there are more aspects you can consider to make a good decision of choosing the best inflatable rental company. Sunjoy Inflatables is professional inflatables manufacturer and supplier, we are willing to make the inflatable rental companies (our main customers) better and make you party more pleasant and memorable. If you have additional ideas, feel free to share with us!