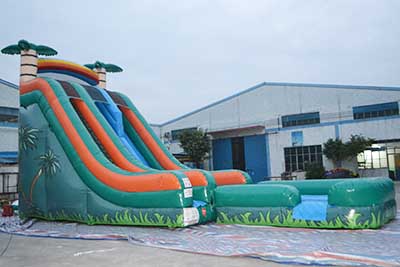 When summer coming, it's very exciting for kids and adults visit a water park. Some families may just renting an inflatable water slide for the kids. When your kids see a giant inflatable water slide in your backyard, they will lose control and can't wait to slide it again and again. But even though the inflatable water slide will bring a lot of excitement for your children, the safety rules must be followed strictly in the playing. Sunjoy Inflatables is an experienced manufacturer of inflatable water slides and other inflatable bouncers, it is our obligation to guide our users on the importance of safety!
Here are some safety rules for the riders.
1, No sharp objects such as shoes, glasses and jewelry.
2, Do not use the slide as a bounce house, riders can not run or jump in the inflatable slide.
3, Rough play is forbidden, no fighting or push others.
4,
One rider at a time
, no double riders.
5, Do no slide with headfirst or on stomach, all riders must be in a seating position.
6, No tumbling or flipping, no jumping on the slide surface.
7, No pre-existing medical conditions or ailments, no pregnant riders.
8, Riders are not allowed to jump the queue.
9, No food and drinks or chewing gum inside the inflatable.
10, Don't exceed the maximum weight limit.
11, Adults supervision is required at all times.
As parents, you should always keep an eye on your kids while they are playing inflatables, and should care more about the other safety aspects.
About whether. Same as the bouncy castles, inflatable water slides can not be played in the bad whether. If you the weather turns bad, get all riders out of the inflatable slide immediately and begin to deflate the slide.
About clothing. Usually, kids and adults can just wear a swimming suit to enjoy the inflatable water slide, no other unnecessary things.
About supervision. Accidents happen due to lack of adult's supervision, so it's important to watch the little riders all the time. You can play with kids in line, but do not ever leave the inflatable water slide.
Educate your children. Sometime your kids can not remember all the safety rules, so you can explain them the reasons why it's dangerous if they do not follow the safety rules, so they know what they can not do.
Manage the order. Manage the turns and play time for every rider, so that the inflatable water slide does not get crowded. And don't let the riders who are too young or too heavy to get in the inflatable, according to the specifications of your slide.
Have a wonderful time with your kids is nice, but remember that security should always come first. As a responsible inflatables manufacturer and supplier, we want to create memorable experiences for your children with our large and colorful
inflatable water slides
. So keep the safety in your mind every time you set up and play an inflatable water slide. More questions about the safety tips of inflatables please contact sunjoy, we wish all users to have an amazing inflatable day!