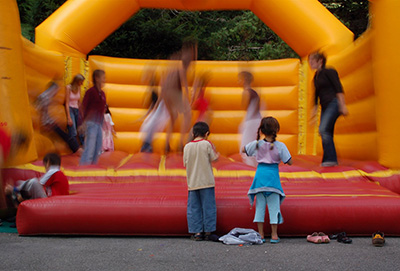 Many people usually choose the inflatable bouncers for their parties according to the appearance and price, but the most suitable inflatables for family use or business use are more difference. The longer you work with Sunjoy, the more you will learn about the inflatables. So today we will share more information about the inflatables, you will learn what kind of inflatable is best for you and which bouncers are incorrect for you!
Indoor bouncy house
The indoor used bouncy houses are usually smaller than the standard inflatables to suit your house, so it has a smaller jumping area and a lower height. In general, theses indoor inflatables are made of lighter materials, such as nylon or thinner PVC for non-contact parts, and reinforced PVC for the jumping floor. The smaller bouncers are best for toddlers or smaller family parties, usually one or two children bounce at a time.
Standard bouncy house
The most common bouncy castles you can see in the backyards or parks, they use the standard commercial grade PVC materials for better support. The standard bouncy houses are usually used outdoors, so the grounded materials are thicker and stronger than the indoor bouncers. They have a bigger size and greater weight, can support more children of all ages. This kind of bouncy houses are best for party rental business, can be used for all kids parties that need a bounce house.
Inflatable water slide
Inflatable water slides are made of durable PVC materials similar to the standard bouncers, but better texture and features for safety when use wet. And should be dry before you take it down and put away. There are two kinds of inflatable water slides according to the use, with a splash pool for ground use or special designed for swimming pool use. If you are planning a backyard water party, the inflatable water slide can also be connected a long slip n slide to add extra fun for you. If you want to use it for a pool party, it's easily to set up by an inground pool or inflatable pool. In addition, you can also use the inflatable water slides and inflatable pools to create a large mobile water park in summer.
Inflatable obstacle course
Inflatable obstacle courses are constructed of stronger materials than the kids bounce houses, because they usually used for the teenagers and adults. Including many fun and exciting challenges, such as the rock climbing walls, tunnels and slides. They are modular design, can be connected with each other to form a large complete obstacle course. Commonly used for the corporate team building days, large business activities and carnivals.
Other commercial inflatables
Commercial inflatable bouncers are made for frequently use, very strong and durable and easy to set up. Usually provided to the party rental companies, and used for various of events, from family parties to the large business activities. The size and design of inflatables are diverse.
According to your event or business, choose the most suitable
inflatable bouncers
from sunjoy, we provides all kinds of inflatables can be customized with different materials as you request. If you are new to the inflatable industry, we can create a perfect solution for your activity.