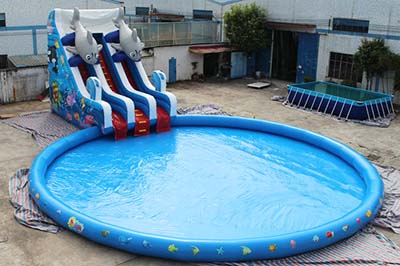 Although it is still early spring, it might seem a little illogical to think about the hot summer, but for many inflatable rental companies, it's the right time to replenish the stock and get prepare for hot summer season. We know that summer is the hot season to throw parties and play on the beach, and vast majority of the teenagers are not in school, so they will have a lot of free time and need some entertainment. As parents, they will not like their kids play video games at home for all day long, but there is too hot for the kids to play outdoors, so, Sunjoy Inflatables offer you a better choice, the inflatable water slide! One of the hottest inflatable game for children in summer.
Why parents will rent an inflatable water slide in summer?
The principle reason is that parents would like their kids have some sport games instead of the video games for the whole summer season. If teenagers stay at home and play the computer games for hours a day, they will be lazy and obese, not good for their health. So the inflatable water slide is the best choice for summer entertainment. Besides, the inflatable water slide will keep the children of all ages busy for a long time, at least 2 to 5 hours in a row. The teenagers continue moving up and down to do some healthy exercise is much better than get bored or into trouble.
Throw a great water theme party
To have fun and cool off from this summer's intense heat, many people choose to plan a water theme party in the backyard. If you only have lawns in your backyard, then you can set up a giant inflatable water slide with a long slip n slide or splash pool to enjoy the cool water. But if you have a swimming pool in the backyard, then you can connect an inflatable water slide to the pool and invite some friends to have an extraordinary pool party! Instead of staying inside to endure the intense July and August heat, now you can embrace summer by swimming and experiencing the vertical thrill. Buy a giant inflatable water slide from Sunjoy or rent one from rental company, you will find that your kids will be cooling off the whole way down.
Build your inflatable water park
For the parents, throwing a great water party for the kids is something to be proud of, but creating a big inflatable water park is an impressive feat. You can not only making fun and lasting memories for all your friends and family, you can also make the whole community cool off. Find a large place, set up a big inflatable pool and inflatable water slide, then add some fun water games on the water, here comes an exciting water park. Sunjoy Inflatables can help you make this great event more fun and easier with diverse of inflatables.
To learn more about the inflatable water slides,
visit here
or
get in tough
with Sunjoy Inflatables. What are you waiting for? Cool off with our multi-lane inflatable pool slides today!