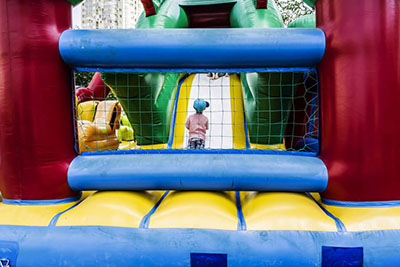 If your kids are a sports fan, then the upcoming summer is a good time for you to throw a sport themed party to celebrate your kids birthday parties, a graduation or a sport championship. The sunny days are out there with the winter past, your kids can't wait to enjoy the outdoors and various of sports. From the bounce house and water slide to the extreme rock wall climbing and bungee jump, Sunjoy Inflatables can take your child's love for sports to the next level! Adding a sport theme inflatable bouncer can bring a strong theme to your party that everyone can enjoy. When your are looking for suitable sport inflatables, the following are several options you can choose to keep children safe and entertained for hours.
1, World Games Championship
This
5 in 1 inflatable sports combination unit
includes five favorite sport games all over the world, the soccer, football, basketball, baseball and dart. Kids can enjoy five sport games with this interactive inflatable unit, and also can compete with friends. About 20 by 16 feet footprint, this world games championship inflatable can be set up at any party and event. Parents and children can both enjoy the shooting excitement and physical exercise, it's much more enjoyable and suitable than the simple bounce house which kids can only jump around for the sport themed party.
2, 50' Ultimate Challenge Obstacle Course
This is the most suitable obstacle course for little children if your kids love rock climbing and tunnels. All children and party guests will enjoy this incredible obstacle course, from the crawl holes, pillars, bumpers and tunnels to the challenging rock climbing wall, complete with a 14 feet declining slide. Parents can sit back and relax as their child will be thoroughly entertained the entire day. This course has a medium size, suitable for most backyard space. This
ultimate challenge inflatable obstacle course
is dual lanes design, allowing your kids to race side by side.
3, Small Floating Water Park
There is no other sport games are healthier than swimming, especially in hot summer. But long time swimming is a little monotonous, so why not create a fun floating water park in your swimming pool? If you are going to plan a pool theme party and the pool is filled with water, you can set up some fun inflatable water games on the water. All guests will like an exciting water park at your party, kids can chasing each other on the floating water parks and enjoy the cool water. There is nothing can draw the kids out of the water until the sun goes down. How astonished is that when your child see this
floating inflatable water park
at the summer party while other kids only get a bounce house! You can custom the water park according to the size of your pool or finding an available lake near your place.
With the above sports theme inflatables, we can guarantee you will have the hottest party of the summer! At Sunjoy Inflatables, our mission is to provide top-class fun and safe equipment. We want parents to feel safe and secure with the inflatable bouncers their children are playing on, so that they too can enjoy the special day and not spend it worrying. Between graduation and birthday parties, family reunions, picnics and more, trying to find a way to make your party unique has never been this easy. You should
get in touch with Sunjoy
and begin to prepare for the large summer event right now!