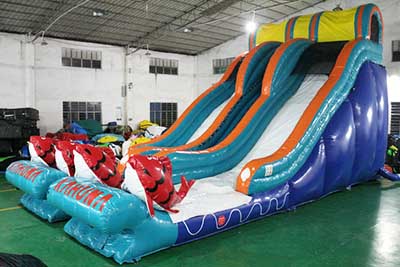 Summer is coming soon, and it's the best time for you to take the kids to a water park. Inflatable water slide is the most popular game in summer, it can not only provides tons of of fun for kids and adults, but also a best way to beat the summer heat. Before you make a plan to rent or buy an inflatable water slide, we list the following factors you need to consider so as to choose the best inflatable water slide for your kids.
1, Your budget
Whether you decide to rent or buy an inflatable water slide, it costs money. The first thing you need to consider is your budget. There are various of inflatable water slides come in different shapes and sizes, their prices vary greatly. And buying one commercial water slide is much more expensive than renting. You need to have a plan of how many times will you use the inflatable water slide. If you want to have fun with your kids everyday during the whole summer, then it's recommended to buy an inflatable water slide.
2, Who will use the inflatable water slide
Before you buy or rent an inflatable water slide, let's see who will use this water slide. If your kids are smaller, then a small inflatable water slide is best for you to save your budget. If for teenagers and adults, then you will need a bigger inflatable water slide. Besides, you should also consider how many kids will play on your inflatable slide. According to the users to determine your inflatable water slide size and style.
3, Consider your space
Like any other big equipment, you need to make sure your have enough space to accommodate it. Where do you want to set up an inflatable water slide? Your backyard or other outdoor venues? You should measure the available size of the space and tell it to the supplier. They will help you choose a suitable size of inflatable.
4, The materials and weight
According to the manufacturing materials, the inflatable water slides can be divided into commercial use and residential use. You should choose the inflatable water slides made of heavy-duty and puncture-resistant PVC materials if you have more budget. The durability of materials makes the inflatable more safe for kids, and lasts longer.
5, The credibility of the manufacturer
Another important thing you need to consider is the manufacturer. There are innumerable inflatable water slides that are produced by dishonest manufacturers in the market, you need to check out the background of your water slide manufacturer. The responsible manufacturers will have their own factories, and use high quality and standard materials. They will provide a great after-sales service, too.
If you are looking for durable inflatable water slides with various of designs, Sunjoy Inflatables is the best manufacturer and supplier for you. We can custom any design of inflatable slides, use top quality 0.55mm PVC tarpaulin or any other materials you want. We can also make the inflatable slide wet and dry use so that you can enjoy it anytime of the year. Recpmmoned products:
Fire N Ice Water Slide
,
Big Kahuna Water Slide
.