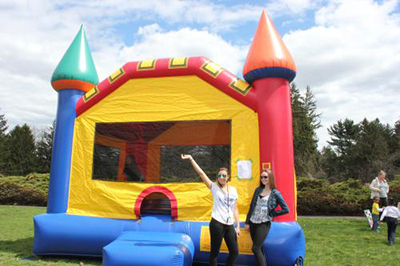 In our daily life, you may see many advertises of the bounce house rental companies in your community. That means more and more people start a party rental business. Why is that happens? Because fun is always an important part in children's life and special parties. Most of the families will rent a bounce house for their child's birthday party. For those people who don't know much about the bounce house rental company, their impression of the bounce house company is that provides inflatables during the kids birthday parties. This article is aimed at helping you understand
what a good bounce house rental company should be
, so that you can plan a party for your child easily.
1, A variety of appealing inflatables.
The inflatables are the most important part that a bounce house rental company provides to you. People come to a rental company, the first thing is choosing the favorite bounce house or water slide. Any party rental company provides bounce house service much have a variety of inflatables that are high quality and attractive. If they don't have colorful and fascinating bounce houses, how would kids and parents walk in their store? The good bounce houses is one of the reasons why customers come back next time.
2, Prompt delivery service.
In addition to the inflatable items, the next service you should look for is the promptness. If they can not delivery your bounce house to your party on time, then your party can not start or start without fun. That will disappointing you and your kids, and this company provides a bad service will not be on your list anymore. A good bounce house rental company should have a well-maintained truck to ensure their service deliveries are prompt. So, keep in mind that prompt delivery is one of the important things you should look for when renting a bounce house.
3, Detailed and thoughtful inquiry.
A professional bounce house rental company will not just letting you brings an inflatable bouncer away. They will ask you how many kids will coming to your party and the age range of all children. Good inflatable rental company will inquire you more details about your party or event, so that they can choose the best bounce house for you and make sure all kids are safe while bouncing. They will ask you the venue, time and other things about your party, try to help you refine your plan.
4, Formal services.
At last, don't forget to check out whether this company is formal or not. You should ask for the license and insurance, and see if they have rightful procedures for booking and reservation. A formal bounce house rental company will protect the rights and interests of customers, no unnecessary charges and reduce your trouble.
If you still have questions about
how to choose the right inflatable rental company
, please feel free to contact sunjoy. We are experienced inflatable manufacturer and supplier from China, provides a variety of commercial bouncers, such as bouncy castles, inflatable slides, obstacle courses, interactive games and inflatable tents, etc.