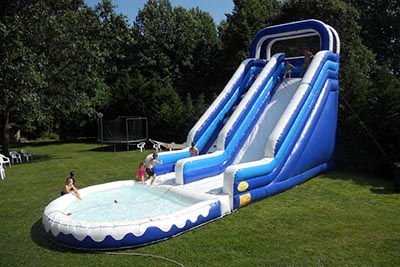 Summertime is so much fun and it's coming soon, parents with kids are feeling a little pressure to keep their kids entertained during the whole summer holiday! When children walk out the school and go back home, they are very noisy and naughty, sometimes you may hear them saying "I'm bored" and ask you to take them to the water park. Actually, you can find many great ways to ensure they have a good time at home, and here are three reasons why the inflatable water slide should be your best choice.
1, The summertime is so hot.
It seems that summer temperatures are rising every year, and people try to avoid go miles away to visit the water park every day. But not every family have a deluxe swimming pool in the backyard, and the public pools are always very crowded, also can be costly and time consuming. Then how do we beat the summer heat? The answer is inflatable water slide. You can easily to set up a giant inflatable water slide to get everyone cooled down. It's so much fun that you can even set up an inflatable swimming pool too to create a small water park in the backyard. Perhaps your children don't want to go miles away to visit the water park and would rather play video games under air conditioning, but a water park in the backyard? It's crazy and they will keep playing until the sun goes down.
2, Your whole family can have fun!
Unlike other inflatable bounce houses, the inflatable water slides can be used by adults, too. Giant commercial water slides are designed and made for adults, so from your little kids to you and other family members, everyone can enjoy the water slide in hot summertime. Such an investment of an inflatable only used for kids may be a little high for some people, but an investment can benefit the entire family is not a problem. After all, you will also need to cool off and have fun. In addition, you can also throw a great summer party in the backyard with your giant inflatable water slide, so that your friends and neighbors can enjoy the summertime!
3, Easy to take down and store.
If you want to build an in-ground swimming pool in the backyard, it's going to take up space no matter what you do. You may not have enough space to throw a barbecue party or place the beach umbrella and chairs in the backyard. But an inflatable water slide and other inflatables will not take up your space when not in use. You can easy to take down and store it after the entire summer fun. The inflatable can be bigger than your house after inflated, but it's only half a person of high when packaged in the bag. You can put it in you garage or loft. It's also very easy to set up when the next summer season coming.
Both kids and adults can have a blast during the hot summer, and your yard can return to normal afterward. Is that enough for you to invest in a
backyard water slide
as the summer season approaches? Come to Sunjoy Inflatables and browse a variety of fun inflatable water slides today, we can make any slides you want!