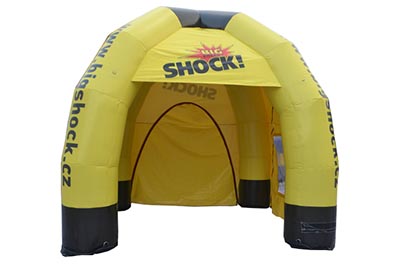 Inflatable tents are becoming more and more popular in many occasions, such as the advertising, promotion activities, fairs, trade shows, carnivals, even wild camping. You may see a very cool bubble tent in somewhere. That's inflatable tent! In recent years, the vast improvements in the designs and technologies behind inflatable tents have turned them into a highly desirable replacement for the more conventional tents. Let's why inflatable tents are really good.
1, Easy to set up and take down.
A large inflatable tent is very easy to set up and take down by one person, you can do it by yourself with any help from others. To set it up, take out the inflatable tent from the bag, spread out the fabric and pump up the inflatable tubes, then secure the tent with stakes and ropes. Take down is also easy, unzip the air valves to deflate, and remove the anchors then pack it up. It could not be any simpler.
2, Take no time to set up.
When camping, take hours of time to put up a tent is part of the camping experience, but if we can make it as quickly as possible, that we can have more time to do more fun things. With inflatable camping tents, the setup is no longer a painful process, you can pump up an inflatable tent in 10 minutes, no matter how huge it could be.
3, Inflatable tents can hold up well in strong winds.
Surprisingly, the air tubes that support inflatable tents do an excellent job at resisting the strong winds. Even the best poled tents will struggle in strong winds, especially larger family tents. The solid poles of conventional tents will bend and become misshapen or stuck in high winds, but the inflatable poles are better, they bend in the same way and just pop back up to the original shape almost immediately, no misshapen or damage.
4, They are very durable.
With the increase in the number of uses, a regular tent will be worn in the same spot of the poles and eventually cause a puncture. However, inflatable tents are made of heavy-duty and super tough material, not only wear resistant and puncture resistant, but the systems are also fitted with pressure releasing valves to avoid excessive pressure explosion. With the accumulation of experience, inflatable tents are designed and manufactured to be very durable and safe in bad weather.
5, Small package size and easy to take away.
Although most inflatable tents tend to be bigger and sightly heavier than the solid pole tents, but after deflated, inflatable tents can be rolled up like a large sleeping bag and pack in a storage bag. The package size is much smaller than other tents, so that tourists can easily bring an inflatable tent to see the world. For example, a bikepacker can squeeze it into a saddlebag.
6, Easy to repair.
Though the inflatable tents have a great improvement in durability and inflation systems, but that doesn't mean they're invincible! So it's necessary to bring a repair kit just in case your inflatable tent get a puncture. They are very easy to repair and you don't need to buy replacement pole parts from specialist suppliers.
Inflatable tents
can be used for many places, depending on your use to choose the right inflatable tent is very important. if you have more questions about the inflatable tents, feel free to contact us!