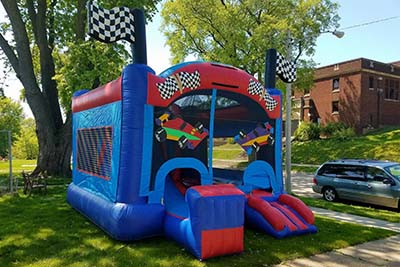 Bounce houses are very great toys for kids to have fun and helpful to the growth of kids both physically and mentally. If you are running any business that works with children such as party rental business, child daycare or indoor play facility, buying a commercial bounce house will make your place become the most popular for kids. Let's look at a few tips when you are purchasing a new commercial bouncy house.
Tip 1: Set a budget and stick to it.
When we talk about inflatable bounce houses, we know that there are different types of inflatable bouncers on the market and they mostly vary according to their sizes. The larger ones are obviously more expensive than the smaller ones and they have more advanced features when comparing the same. So, you should determine the size of your commercial bouncy house according to your space and the number of people you expect to serve. You could spend just a few hundred dollars, or even a few thousand. So it's best to set up a budget before you start browsing the latest bounce houses.
We suggests that you buy bounce house from the manufacturer because you are able to get the best deal and customize the colors and styles you want. Don't restrict yourself to the colors and designs when shopping the inflatable bouncers online, all your wildest dreams concerning bounce houses can be satisfied by Sunjoy Inflatables.
Tip 2: Buy commercial grade not residential.
There are commercial and residential two kinds of inflatable bouncing houses for sale on the market. Most of the smaller indoor bouncers that you can find at the supermarket are actually designed for residential use. They are not strong enough for more children to use them a few hours on a daily basis. Consider to your business, you should focus your money on purchasing something that`s hard wearing and durable. The commercial grade bounce houses will unfortunately cost a little more, but they are real good quality and won't break down under regular use. And they are more safe for the kids while they are having fun in the jumping castle. Not all inflatable manufacturers you find on the Internet are able to guarantee safety and we do guarantee so that you don't put the safety of children at stake.
Tip 3: Constant flow of air.
Nearly all of the bounce houses are using an electric blower to keep inflated, maybe you don't like the sound of the blower but it can provide constant air flow to maintain the pressure of your bouncer, keeping it in shape and bouncy during the play time. It's not recommended to make it into airtight type if it's not necessary. Because the constant pressure will drastically reduce the chances of rips and tears.
Buying a commercial bounce house is one of the best investments you could make if your business relies on entertaining children in any way. More and more business owners are purchasing commercial bounce houses on the Internet marketing sites to get a good deal. At
Sunjoy Inflatables
, you can always get an ideal solution for your inflatable business with attentive service.