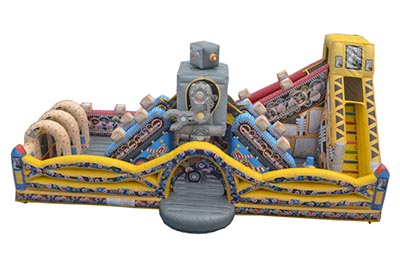 Most of kids have tons of energy and very difficult to be entertained, at weekends, they are easily bored and running around to make a mess. Many parents have to take them out to a nearby playground, this could be a good idea. But sometimes you have have other reasons and can not do that. For example, the weather might be bad, you may worry about the safety of the old playground equipment, or you just can't find a playground in your community. Luckily, you can always choose an indoor inflatable playground.
An inflatable playground is a fun park with many inflatable games for children, such as bouncy houses, slides, obstacle course, and ball pits. They are much more fun than the simple structure inflatable bouncers. With more features designed into one piece, the large inflatable amusement park for kids can be set up in your house. Like the bounce houses, the inflatable amusement parks are also take up quite a bit of room. If you don't have enough space for an inflatable amusement park, you can take your kids to the commercial indoor inflatable play center.
The indoor inflatable playground is a safe and fun place for children. They have dedicated staffs to watch your kids when playing in the playground. The entire inflatable play center is composed of various of inflatable toys, surround by a safety net to keep kids inside and parents can see their kids from outside. Many kids play with each other inside the inflatable playground, good to help your child's social skills. And the supervisors are always alert for brawls between children and are prepared to break up any playground scuffles if necessary. That means you can leave your kids here when you have to go out and do a bit of shopping, or run other errands.
In addition to the daily playing, you can also rent the whole playground for a birthday party. The common outdoor inflatable birthday parties for kids are easily be interrupted by weather. But an indoor inflatable playground can be used for all year round, you don't have to worry about the rainy days, windy days, or getting too hot under the sun. With so many fun inflatable sport games in the playground, suitable for children of all age and they can be entertained for all day long.
The
indoor inflatable playgrounds
for kids are getting more and more popular, you can see them in the shopping malls and commercial plazas. Also, with the development of inflatable structures, there's nothing you can find at an outdoor playground that you can't find at an indoor inflatable playground. So, find a great commercial indoor inflatable playground that's near you or just buy a simple one for your kids. Sunjoy Inflatables have a variety of inflatable playgrounds for sale, with different themes and size, can meet all your needs.