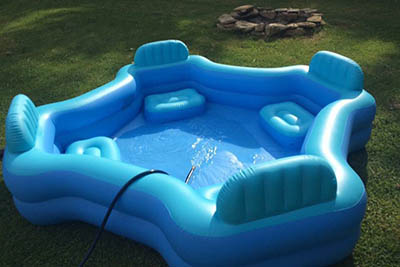 When it comes to inflatable pools, many people think they are kids playing toys, this is not correct. As the inflatable technology develops, the inflatable pools are more and more durable and diverse. You can easily see a big inflatable swimming pool in someone's backyard and their whole family are sitting in the water. This has become a new trend now. Especially in the hot summer, many families are buying big inflatable swimming pools for the whole family members, not just the kids. Compared to the traditional swimming pools, these large inflatable swimming pools offer a lot of benefits to the users.
The benefits of inflatable swimming pools include:
1, They are very affordable. Many people may not afford a traditional in-ground swimming pool in their backyard, but every family can easy afford an inflatable pool because they are much smaller than the permanent swimming pools.
2, They are very easy to set up. A big inflatable swimming pool is like other giant inflatables, you can easy to pump it up with an electric blower, some inflatable pools may need to pump several times because of multiple air chambers design. Also, you can easy to take it down and storage when you are not using.
3, They are very portable. As an air blow up product, the inflatable water pools can be used anywhere, the backyard, beach, lakeside, camping ground, etc. Take it to your party place if you want!
4, Suitable for small to medium space. You can buy a small one according to your space and it can be used indoors.
5, Easy to clean, made of smooth PVC and Vinyl materials, the surface is non-porous can be very easy to wash by the cleaner.
Like any other products in the market, these inflatable pools also have their limitations, include:
1, Limited depth. Limited by material and structure, the inflatable swimming pools can not be made very deep, so it may not ideal for people who love diving.
2, Insufficient filtration unit. Large inflatable swimming pools come with undersized water pumps and filter systems, this makes it almost impossible to keep the water clear and free from algae after a few days use. You may need to change the water or use chemical cleaner.
3, There is a risk of rupture and puncture. Though the inflatable pools are made out durable materials to reduce the risk of puncturing and damage from occurring, but it's still an inflatable product, inevitably with a risk of tearing.
Inflatable swimming pools
are designed in various sizes and shapes, some of them also come with added features such as sprinklers and slides to make it more fun for children. If you want a bigger and deeper swimming pool in the backyard, it can be made into frame structure which stabilized by the steel frame. Buying an inflatable swimming pool in your backyard is an excellent way to let your entire family enjoy the cool water swimming during the hot summer months and without high price tags associated. Contact Sunjoy Inflatables today to custom your own inflatable pools with affordable price this summer.