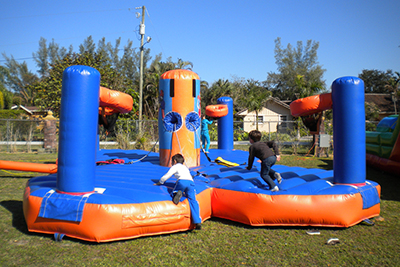 When the long waited summer arrives, the children are very excited to play with water, but some parents may be worried about the dangerousness of water games, so they have to find another fun sport games for their little kids. The entertainment for the kids sometimes may be stressful for the young parents, but all things will be well with the inflatable toys. When you are planning a birthday party or a fun day for your child, the traditional way is provide a bounce house. However, there are far more complicated and interactive inflatable games designed for kids of different ages, you can let your little child to interact with other kids effectively and without having to worry about being injured.
12 years of experience being working with inflatables have indicated that the most effective interactive inflatables are the inflatable sport games. The various of
inflatable sport games
are life-size design, not only provide interaction for children but also fulfill many physical play requirements. With many different themes and styles, you can always choose a best inflatable toy for your child according to your child's age and mental ability. For example, younger children may just need to jump and crawl in an inflatable bouncer, but older children will need more features and interactive accessories to ensure optimal engagement.
Why different ages of children will need different inflatable games? This is a very simple question that does not need to be answered. Scientific childcare experience has shown that use different games at different ages can enrich a child's motor and mental abilities. Kids need to learn to walk before running. In addition, if little children are playing with other kids of their own age, they can learn how to make friends and increase their emotional abilities. That's why these inflatable sport games are called interactive inflatables.
Therefore, you should consider these factors when you are choosing inflatable toys for your child. During the child's developmental stage, kids will find an interactive game that they are most interested in. It's beneficial to their growth with the right inflatable games. The toddlers would be most suited to the smaller and simpler inflatable bouncers due to their motor coordination abilities have not yet fully developed. On the other hand, older children will require a larger and durable inflatable sport game because they are more active than other ages. In the daily life, they can learn more real sport games on the TV and want to try it for themselves, so they will be very excited if you buy them an inflatable basketball shooting game when they know the basketball.
Anyway, buying an ideal interactive inflatable game is not so difficult, all you need to look for is the needs of your kids. Sunjoy Inflatables is great factory they providing inflatable games for kids and adult. No matter you are looking interactive inflatable games for your family kids or your commercial children's playground, we can recommend the best and most suitable inflatables for you.