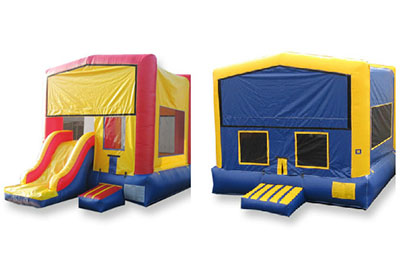 Inflatable bounce houses are giant and fun, kids love these and people with business minded can easily make this into a great business opportunity. If you want to start your own business and enjoy working at various events or parties, the the bounce house rental business is a great option for you. As an inflatables manufacturer and supplier, we do not blindly encourage our customers to join this industry for performance. The inflatable rental business is not only profitable but also has relatively low start-up costs, very suitable for those who has less experience. Also, you can get more tips that will help guide you how to run your own inflatable rental business.
1, How about the demand for bounce house rentals?
The bouncy houses are amazing and most kids want one for their birthday parties. In addition, large inflatable jumpers can also be used at fundraisers, corporate events, holidays, festivals, summer camps, street fairs, carnivals, grand openings, and many more. You can see it everywhere in work and life. There are so popular that people want to use them in almost all celebrations. Now you can see how big the demand is.
2, How much does a bounce house rental business make?
We all know that an inflatable bounce house rental business is a very profitable business but profitable it can be? This rental business is growing in excess of $3.5 billion a year. Let us analyze how much money you can make from an inflatable rental business. We assume you have 3 simple 15x15 bounce houses and only do this at weekends. The cost of purchase of 3 bounce houses is probably $5400, and you rent it for $75 a day, average 4.5 rentals a week (total of 234 a year), then a year's income is about $75 x 234 = $17550. The expenses are $5400 + $1500 (estimated insurance) + $1000 (estimated advertising) = $7900. So your net profit is $17550 - $7900 = $9650 a year.
3, Where to buy different sizes of bounce houses?
Before you start your bounce house rental business, you must understand that there is no one-size-fits-all because your customers will have different needs. We suggest you to have at least three different sizes of bouncy houses, then you can rent them out to meet the needs from small birthday parties to large public events. Moreover, you can set different package prices to get more potential customers to increase your income. Thus you should find the best commercial bouncers manufacturer and supplier in the market. At Sunjoy Inflatables, we offer huge variety of inflatables, any styles and sizes of inflatable bouncers you can custom here, and we only use high quality materials that you recognize. So you never have to worry about purchasing low quality, potentially dangerous bounce houses for your customers.
4, Do I need a truck to operate my business?
Yes, a truck or a trailer will be a very important piece of equipment in your bounce house rental business. Although the commercial bounce houses are inflatable products, but they can be very heavy. And every time you rent it out, you and your team will need to deliver, set up and take down for your customer. So a vehicle is required to safely haul your inflatable jumpers.
5, Where can I store the bounce houses?
Although a bounce house can be very huge when inflated, but it is quite small when rolled up. The average size of rolled bounce house is about 4x4x5 ft, almost as big as a large sleeping bag. So you can easily store it in your garage or basement, even store them outside in your backyard just make sure to cover them with a tarp.
Running an inflatable rental business is promising and can be a great part-time job. As a manufacturer, we proudly offer a large selection of
commercial inflatables wholesale
to help our customers to start their own business. More questions about the bounce house rental business, please don't hesitate to contact us, we can make a perfect solution for you!