In hot summer weekends, what's the most popular inflatables in the rental companies? Several customers told me that is the inflatable water slide. Though the bounce houses and obstacle courses are also great inflatable games for outdoor parties and events, but the happiest thing for the kids is playing with water. The inflatable wet slides are great because they can keep both kids and adults entertained for hours at any birthday parties or special events. So, as the specialized party rental companies, you should have a wide selection of inflatable water slides for your clients to choose from. In the upcoming summer, have you purchased sufficient inflatable water slides for your inventory to get ready for the hot season business? Here are three most suitable water slides for you.
1, 18 Feet Sports Theme Water Slide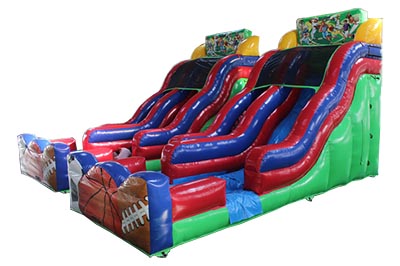 The first model we recommend to you is the 18' sports inflatable water slide. Designed with hot sports theme and beautiful digital printing, very attractive for active children. And it's also perfect for small kids because it has strong safety netting on the top and tall slide walls and a retaining wall at the end of the slide, all these designs can effectively keep the kids safely inside the slide. A barrier between the climbing ladder and sliding lane, so that the sliders will not crash into one another. Made of red, blue, green, yellow colorful materials, this inflatable water slide can bring a good day for you child.
2, 21 Feet Fire N Ice Double Lane Water Slide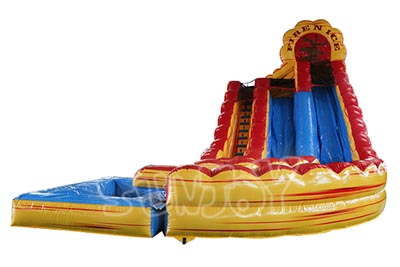 The second model you should have in your inventory is this famous Fire N Ice double lane inflatable water slide. The two sliding lanes are curved design with a big splash pool at the bottom can be used by two kids at a time. Children can not only enjoy the fun of straight down and turn, but also can splash into the water pool and keeping cool. With a total 21 feet of height, suitable for kids of all ages. Great for the backyard parties and summer camps. You can entertain you kids with this water slide and watch them sliding into the pool in summer sun.
3, 59 Feet Long Rainbow Water Slide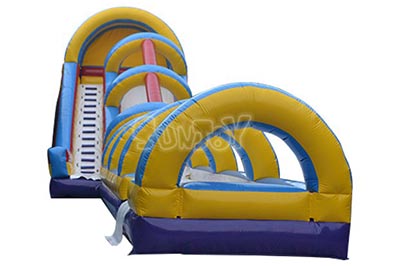 The feature of this inflatable water slide is that it has a long slip n slide at the bottom to extend the exciting sliding lane for the players. When you climbing up to the 21 feet tall platform, you will see a straight down path leading you to the end splash pool. As fun as playing in the water park! This giant inflatable water slide with arched slip n slide will surely impress your neighbors at the next community party.
With a wide range of inflatables to choose from is critical for your company to fulfill the basic needs of a potential client, but the ability to provide excellent service can help you go above and beyond to separate yourself from the competition. Buying the above popular inflatable water slides and renting them to your customers in this summer, the fun and reliable water slides will bring you repeat satisfied customers. Update your inventory with Sunjoy Inflatables, we are confident to provide you durable and unique inflatable water slides that can help you make a success in the rental business.