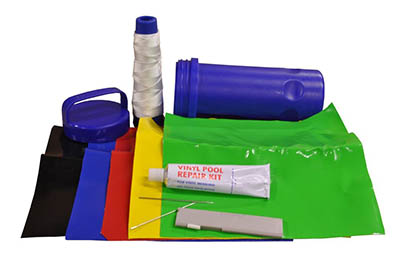 For young people, owning our own inflatable rental business is a very exciting thing, this type of business is growing really fast and very easy to grow into a lucrative business. Also, working with the fun bounce houses and great parties every day is very exciting too. With the development of our business, there are a wide selection of inflatables in the inventory. So many inflatable equipment is a very important part of the rental business, but do not ignore the necessary accessories. We also need these essential accessories to operate, maintain and repair all our inflatable bouncers. Here are several essential accessories for the bounce house rental business.
1. Inflatable Blowers.
For the most inflatable products, a continuous electric blower is essential. All the inflatable structures with small leakage in the seems to enhance the ability of absorbing pressure will need at least one durable blower to pump air into the blower continuously to keep them inflated and operational. The size and number of the blowers required depends on the size of the inflatable jumper. The common blowers come in a variety of amp ranges from 0.5HP to 3.0HP. All our inflatable bouncers are designed with multiple inflation tubes, for a regular bounce house, you can use two blowers to inflate the structure and use one to keep it working. Although you don't need to have as many blowers as your inflatable units, but you'd better have sufficient blowers to serve as many customers as possible at the same time.
2. Sealed Air Pumps and Hand Pumps.
For the air tight inflatable products, the continuous blowers are not applicable. You will need another type of air pumps. These sealed air pumps are used to inflated your airtight products, such as the floating water park, water games, jousting poles, zorb balls, sumo suits, inflatable boats and other inflatable pieces. This type of inflatable units are designed with high quality air valves, not the inflation tubes. And you will also need some portable hand pumps in case of no electricity in the outdoors.
3. Anchoring Stakes and Sandbags.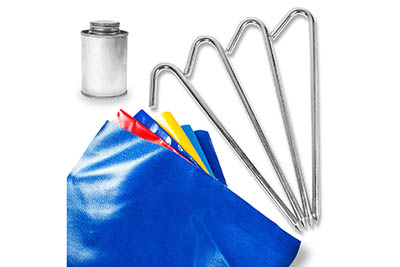 The anchoring accessories are also essential for a bounce house when it's inflated and kids jumping inside. If you don't want to see your name in the news of bounce house blowing away, then you must take this seriously. The steel stakes are used to hold inflatable bouncers on earth and other soft surfaces, if you set up an inflatable jumping castle on the concrete floor, you will need sandbags to hold the inflatable in place. You don't know where your customer will set up a bounce house, so you'd better prepare two types of anchoring accessories. In addition, the extra ropes are also best prepared.
4. Inflatable Repair Kits.
In Sunjoy Inflatables, each inflatable bouncer will comes with a special repair kit, which includes the patches of the same material as the inflatable structure, durable thread and needles, glue and other parts. This repair kit can be very helpful when your bounce house suddenly tearing at the party. You can easily get it repaired without having to send it back to the manufacturer. Although you can get a new repair kit from each of your newly purchased inflatables, but you will run out some of accessories over time. So please remember to check whether you have enough repair accessories before you rent an inflatable out.
5. Durable Storage Bags.
The storage bags are also a very important accessory for your inflatable rental business, because not all your blow up structures are always being used, so you will need a strong and clean bag to store them. The storage bags protect the inflatable from dirt and debris, sunlight exposure, moist air, animals, insects, and unnatural wear-and-tear as a result of scraping the structure against hard, rough surfaces. Sunjoy, the professional inflatable manufacturer, will always prepare a durable storage bag for each of the air bouncers, it's large enough to hold the entire inflatable unit and it's accessories so that customers can carry and store their inflatables very easy and convenient, and nothing will get lost, damaged or misplaced.
Operating an inflatable rental business requires more than just buying inflatable units, there are a lot of essential accessories that are also needed. Many beginners will usually ignore this. But luckily, Sunjoy Inflatables as your best inflatable solutions supplier, we can give you very helpful advice to help you conduct your rental business, anything you need for an inflatable rental business can be bought here.
Get in touch with Sunjoy Inflatables
and get an ideal solution today!