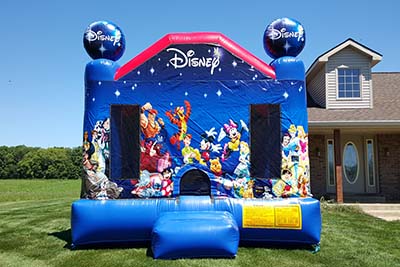 With the increasing popularity of inflatable bounce houses for the birthday parties, festival celebration, school and community activities, corporate events, the inflatable rental business can easily grow into a very profitable business. So more and more young people who like work with the parties and events are considering to start their own inflatable rental business. However, like any business, this easy and lucrative business will require an initial expenses. And the biggest expense will be buying various of new commercial inflatables. For many small business owners, they will consider more factors and find a better solution to save money when starting their inflatable rental business.
1, Choose the commercial grade inflatables.
When you are buying bounce houses for rental business use, you can not choose the residential bounce house. Because your inflatable bouncers will be rented by many customers, the poor quality inflatable jumpers with tear or malfunction easily a party will make you lose many customers, so choose the high quality inflatables that are reliable and durable is very important. Though they are more expensive than the low quality inflatable bouncers, but it's not a good way to save money. When you buying a commercial bounce house, you will save your money in the long term use, such as the service life, maintenance and repair fees, safety, and so on.
2, Buying or renting inflatables.
Yes, you're reading this correctly. An inflatable rental business can also rent bounce houses from other companies. Some business owners will rent inflatable structures from peers when their customers require a special bounce house they do not have. And some beginners think this is a good way to save money. But it's not. In short term, renting inflatables for your own business can reduce your monthly expenses at first, but it can also decrease your profit margins. In lone term, buying your own inflatable jumpers will save far more money because once the initial investment has been recovered, the rest is profit. And recover the investment in new inflatables is much faster than you think.
3, Looking for great used bounce houses.
For a successful party rental business, you should own at least two or more bounce houses to meet different needs of your customers. So some people choose to purchase used inflatables at the beginning of business to gain stock while saving money. This is a good way for small business owners. But you can't just buy cheap used bounce houses from others. There is a great risk that you may buy poor quality bouncy house. We recommend that you buy from the manufacturers. Yes, we have few used inflatables for sale too, they are only used for testing or used a few times, as high quality and durable as the brand new inflatable units but more cheaper. Although the inflatables may be some slight discoloration due to natural wear, each inflatable structure has been professional inspected and repaired to ensure they are in good condition. But the good used inflatables are not always available, you need to check the manufacturer's latest inventory and promotional information at any time.
4, Buy bounce houses in bulk to ask for a discount.
Sunjoy Inflatables has many promotions and package deals every month on commercial bounce houses, inflatable slides and accessories. If you buy inflatables in bulk, you will get a great discount to reduce your initial costs of new rental business. So if your are browsing our
latest selection of inflatable bouncers
, include the bounce houses, combo units, slides, obstacle courses, sport games and others, don't forget to ask for a discount if you buy in bulk.
The initial start-up costs are a necessary part for any new business, if you want to reduce these initial start-up costs of your new inflatable rental business, get in touch with
Sunjoy Inflatables
and we will help you make an ideal solution with our rich experience.