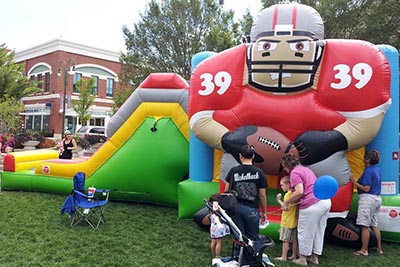 Party season is coming, many families are planning a great summer party for their kids. This might be a big event once a year so some parents choose to rent a wonderful bounce house instead of buying one. But there are so many party rental companies offer bounce house rental service and how can we distinguish the best rental company for our party? Of course we can not trust the advertisements 100%, so we need to ask some essential questions to make sure the party supplier is responsible. The following is a list of 9 questions you should ask when you are choosing the best bounce house rental company.
1. Does the company has a license?
A license means that they have the legal rights to rent their inflatable structures to you. Why this is important? Because you can not only rent bounce house from the regular rental companies, but can also rent from your neighbor who has a bounce house, and they will not have a license. We know that there are a lot of people running their bounce house rental business at weekends, but not all of them can provide a guaranteed service. So for your kids safety, rent bounce houses from a licensed rental company is a good way.
2. Do they have insurance?
An insurance is very important for the bounce house rental company and the users. Because insurance will cover injuries of the children using the bounce house if any malfunction should occur. If you are planning a big party with lots of kids, you will need this insurance. Remember, the insurance for bounce houses tend to be quite expensive, make sure you have sufficient budget. Attention please, if you find someone offering a good price and claiming they have insurance, they may be lying. A good way to know if they tell the truth is to ask whether they would service a school or other similar organization, they would not be able to do so without an insurance.
3. Do they comply with safety regulations?
Safety regulations are the rules how they renting and maintaining the inflatable units for you. Each state has different safety regulations and you may not be very clear. But if the company are telling you how they comply with the required safety regulations, you will know that they are more professional.
4. Do they provide a written contract?
A written contract is very important if something happens. So don't forget to ask for a written contract. If you make order on their website, then you can ask for a electronic contract. A formal contract is necessary if an accident occurs or if the booking gets cancelled somehow. In addition, the rental company provides a formal contract indicating that they are more likely to have a license and insurance.
5. Are they serious about the customers?
One thing you should consider is that are they serious about their business? Can you contact them all the time and will they answer you as soon as possible? The customer service is very important for your experience, this is a sign that they are responsible and can be trusted. If you can not contact them when you need to, then go to another rental company.
6. Do they clean and disinfect their bounce houses?
A professional rental company will properly clean their inflatable bouncers before delivery to you. But you will never know when they say so. Therefore you can ask the delivery person to do a quick cleaning after they set up the bounce house for you, a responsible company with good service will not refuse you this reasonable request so that you can see for yourself the bounce house is clean. They will usually carry cleaning equipment with them if they do it a lot.
7. Are their inflatables painted with lead-free paint?
The colorful bounce houses with beautiful pictures are not always digital printed, some of them are painted. When the paint job starts to flake this could be inhaled by your kids. So you should ask them whether their bounce houses are painted with lead-free paint. If you don't want to worry about this, then don't rent any inflatable units that you can see the paint job visually coming off and starting to flake.
8. Do they offer other party supplies?
When you choose your favorite bounce house from the rental company, you can also ask them if they provide other equipment? Some companies only offer inflatable units while others offer a whole range of party supplies. So if you just need to rent some tables and chairs for the party, then you don't have to go to another store. Rent everything you need from the same company will simplify your work.
9. How reliable are they?
This is not the question you should ask the company directly because they will surely say yes. The reliability of a company is to see how they deal with unexpected situations. Will they cancel your order without a good reason? Your party will become a disaster if the expected bounce house can not arrive. The advice here is to find some reviews about this company online. In addition, you can ask when they started this business. Usually the older companies tend to be more experienced to deal with unexpected situations and more reliable.
Looking for a perfect inflatable rental company can be tricky. If you have a lot of parties and events, you can buy your own inflatable structures and don't need to worry about the rental. Sunjoy Inflatables provides a variety of commercial grade
inflatable bouncers for sale
, you can buy anything you want from the manufacturer and enjoy a factory price now!