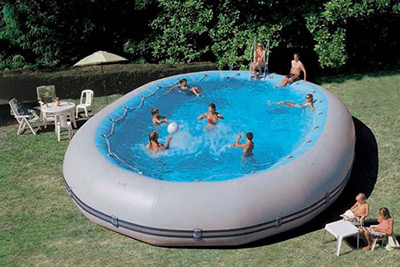 Summer is a water season, for many families, they can't afford an in-ground swimming pool, so the inflatable swimming pool will be their best option. Inflatable pools have many advantages over permanent pools, they are portable, cheap and come with various designs. Since we consider the pool shape as an important aspect in our inflatable pool design, it's necessary for us to describe the merits and demerits of the various common pool shapes so that users can choose the most suitable pool for their space and preferences.
In the inflatable swimming pools market, the commonly shapes include square, rectangular, round, oval and polygonal.
1. Square inflatable pools
The square inflatable water pools are very common in many backyards and water parks. Due to the similarity in their lengths and widths, they look very regular and clean in appearance. The square shape design of portable inflatable swimming pools enables them to offer large swimming space in all directions, can be used in both limited and expansive spaces. And the large square pools will look more spectacular especially in a big water park.
Because the length of
square inflatable pool
equals the width, so the air chambers on each side are almost the same, and structural strength is very average. Inflating and deflating are easy, cleaning is simple so the operational costs are relatively less expensive.
2. Rectangular inflatable pools
Rectangular is basically the most popular shape of swimming pool. Many in-ground pools and above-ground pools are designed into rectangular. Because this design can increase the swimming distance on the length side, so it's recommended for swimming contest and other water activities. Similar to the square inflatable pools, but longer and narrower, so the rectangular inflatable swimming pools are much more suitable for special spaces that are long and narrow. Besides, the right angles of square and
rectangular inflatable pools
can be customized into small rounded corners to make the pool more elegant and mellow.
3. Round inflatable pools
If we are looking for an inflatable swimming pool for adults, most people will choose the rectangular. But if we are selecting an inflatable water pool for children, then the round pool is ideal. Compare to the commercial use, round inflatable pools are more common in home use. Round shape is the favorite shape of children, because they are small and don't need a long swimming distance. They can sit down and play their water toys. As we know, with the same side length, the round shape can provide the largest area. Another unique aspect of round inflatable pools is, they experience similar amounts of pressure spread across the walls of the pool, which ensures structural strength.
4. Oval inflatable pools
Oval shape design is a combination of rectangular and round. The oval inflatable pools are the most beautiful among all designs. People choose oval inflatable water pool in addition to the space requirements, but also for its elegant appeal and aesthetic value. But due to the uneven pressure distribution on the walls, oval inflatable pools are a little more difficult to manufacture and set up, so the cost may be a little more than the above three designs.
5. Polygonal inflatable pools
The common polygonal inflatable water pools include hexagonal, octagonal, dodecagonal and irregular. Basically are custom products. According to your special spaces or preferences, you can custom an inflatable pool in any shape and size, even if two water pools connected by a corner. This kind of designs are mainly recommended for special situations whereby there is limitation of space resulting from buildings, fences, vegetation and even power lines. The advantage is that it can be any shape, the downside is that it requires more materials and increase the costs.
In addition to the
inflatable pools
, the portable swimming pools also include metal frame pools, made of metal support frame and pvc tarpaulin liner. No matter what kind of water pools you need, sunjoy can customized for you. If you need more fun water toys, we can even design a small or big inflatable water park for your summer activities.