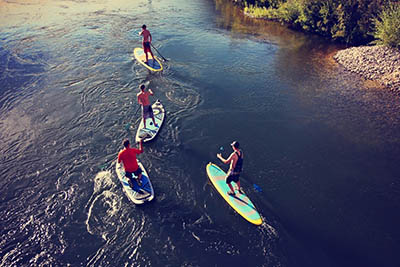 Stand up paddle boarding is also known as SUP, very fun and easy for both kids and adults, and also a great way to do exercise on the water. So this water sport has become the world's fastest growing sport. More and more people are considering buying their first stand up paddle board. As a great inflatable SUP boards manufacturer from China, we hope all our users can find their best SUP board to enjoy this summer on the water.
Here are some important things you should know before buying your first stand up paddle board.
Different types of stand up paddle boards
With the development of this water sport, SUP boards have also become more and more professional. According on different uses, there are also different types of stand up paddle boards for you. Here are the most common types of SUP boards introduction for you to help find the best stand up paddle board.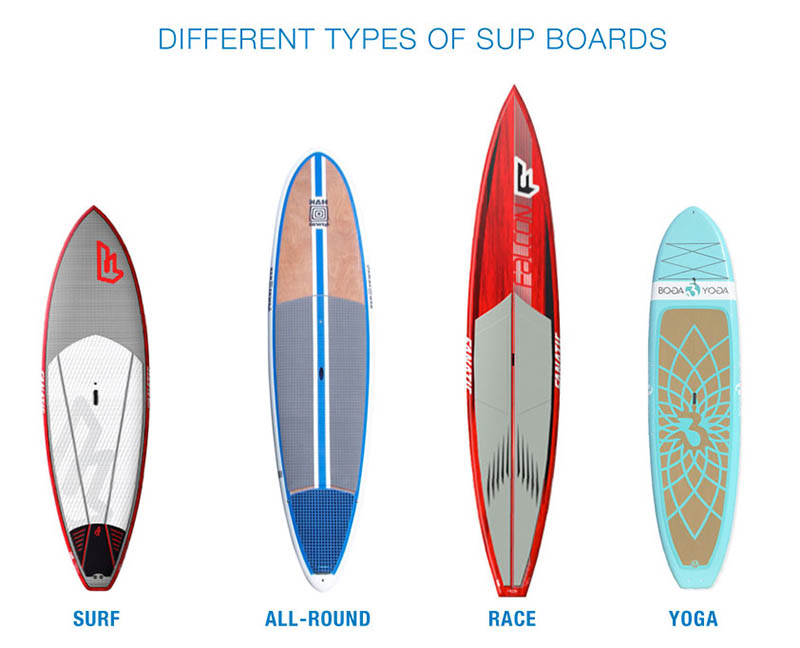 1. All Around Stand Up Paddle Boards
All around SUP boards are the most common shape on the market, because it's designed for most people, the beginners. The all around stand up paddle boards are versatile in all water conditions. If you are first-time and beginner paddlers, I'm sure you can find an ideal all around SUP board to start your journey. Both kids and adults can use this type of SUP boards, and even your dog and stand on the board with you to have a safe and fun paddle.
2. Fishing Stand Up Paddle Boards
As its name says, this type of stand up paddle boards are designed specifically for fishing. In the past, those people who love go fishing will buy a boat or kayak, but now they don't need to invest so much, a fishing SUP is perfect choice. The fishing SUP boards are longer and wider to provide maximum stability and enough space, so you can comfortably cast your fishing rod and move around. Has the capacity to fit all your fishing gear on board, such as rod holders, fish finders and anything you need.
3. Yoga Stand Up Paddle Boards
Yes, you can do yoga on the water with a stand up paddle board. These yoga SUP boards also have extreme wider template to provide maximum stability, comfort brush deck pad serves as an extra comfy exercise mat for those intense yoga positions. Perfect for flat water paddling and staying for yoga, Pilates, or any fitness related exercise.
4. Touring Stand Up Paddle Boards
This type of stand up paddle boards are also very common for beginners, because it's wide and stable, and designed with maximum glide and efficiency, so you can easily paddle for a long distance. Can be used as a touring boat in flat water, such as open ocean, bays, lakes and rivers.
5. Surf Stand Up Paddle Boards
This type of stand up paddles boards are more professional, suitable for intermediate to advanced paddlers. Less stable on water, so it might not a perfect choice for beginners. Can be used for small to medium size surf and, of course flat water paddling. Very maneuverable in the surf, highly shreddable.
6. Race Stand Up Paddle Boards
This type of SUP boards are the so-called professional competition equipment. Special designed for flat water races, down-winders or open ocean competitions. It has extra length and width which generates fast sprint speed and long glide efficiency. Beginners are not recommended, but elite and recreational racers are perfect.
As you can see, the above types of SUP boards can be some crossover, because most people use their boards for multiple purposes, such as recreational, touring, surf and racing. Therefore, consider what you are going to use your paddle board most before you make your choice.
Basic stand up paddle board equipment
1. SUP Board
- The standard SUP boards come in all shapes and sizes, have inflatable and epoxy two kinds. For beginners, the wider, longer and thicker the better.
2. Paddle
- A paddle is essential as the board for SUP. The paddles also have many constructions on the market, include plastic, aluminum, wood and carbon fiber. The paddle you choose should be 6-10 inches taller than your height, fortunately, some paddles are adjustable for different people.
3. Leash
- A leash is also essential for paddle boarding. Once you fall into the water, currents and winds can quickly sweep your SUP board away from you, so you need a leash to help you get onto the board. This leash keeps your board attached to you with a Velcro strap around your ankle, always remember to use a leash.
4. PFD
- Personal flotation device, usually a life jacket. In addition to swimming, no matter what sports you have on the water, it's recommended always wear your life jacket.
Inflatable Vs. Epoxy SUP Boards
Once you know what type and what size of a stand up paddle board you want, then you may need to decide which kind of SUP board you like, inflatable or epoxy. In addition to the soft and hard materials, there are many differences between the two stand up paddles boards.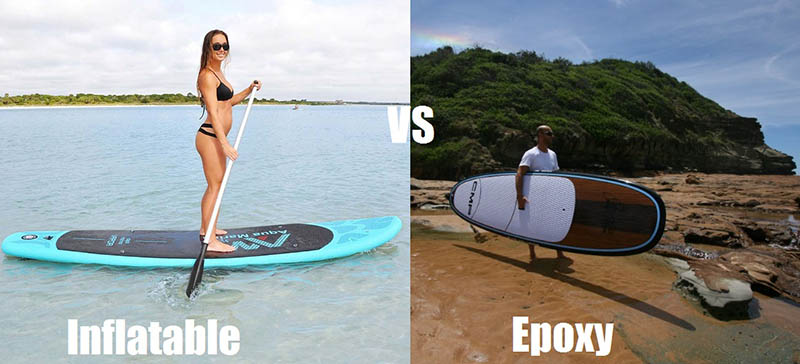 1. Usage
Epoxy stand up paddle boards are traditional kind, the performance is generally better than the inflatable due to the materials, it seems like this at least for now. The epoxy stand up paddle boards can provider better maneuverability, speed and glide than the inflatable stand up paddle boards. There, inflatable SUPs are more suitable for beginners and epoxy SUPs are more suitable for serious paddlers.
2. Transportation
When it comes to transportation, it doesn't need to be told that inflatable stand up paddles boards are more easier to transport than other epoxy and hard stand up paddles boards. When others have to tie an epoxy SUP on the top of their cars, you can just deflate and roll up your inflatable SUP to a small size and put in your backpack.
3. Storage
From the package size, you can know that inflatable SUP boards are perfect for people short on space. No matter how big your stand up paddles board is, you can always deflate it and store practically anywhere. But for an epoxy SUP board, you must have enough space for this hard board.
4. Price
The price may be the biggest concern for most people. When you buy your first stand up paddle board, you know you don't have to buy the super high-end expensive board, but you also don't want to buy a cheap one just to save money. So you may need to do some research before you pay. In general, you can understand that the epoxy SUPs are a little more expensive than the inflatable SUPs due to the difference of performance. For beginners, inflatable stand up paddle boards are good enough in all conditions and much affordable compared to the hard boards.
Now, you may feel much easier to choose the right stand up paddle board according to what you plan to use it for, your budget and storage/transportation options. Shopping for an ideal SUP is so simple and fun, but if you want to purchase wholesale inflatable paddle boards,
Sunjoy Inflatables
can offer you a great factory price!