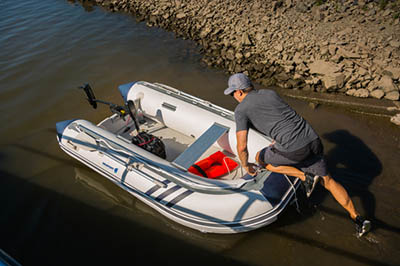 For many people who try inflatable kayaks or canoes for the first time, safety is always their biggest concern. They can't stop thinking that this small inflatable boat would sink after being dragged on gravel and rocks, hitting debris and sticks in the water, dog claws, kids jumping and hundreds of paddling adventures, etc. These reactions are just simply because they don't realize how strong the inflatable boats can be. After you learn what materials are used for your inflatable boats, you will know the good quality inflatable kayak you buy is super tough.
On the market, there are several common materials are used to make inflatable boats, PVC, Hypalon and Nitrylon. All of these three materials are very rugged and durable, let's take a look at what are the differences.
PVC
PVC and Hypalon are two most well known inflatable boat materials. The specific kind of PVC material we use to make inflatable boats is PVC-coated tarpaulin fabric, the same kind of our commercial inflatable water parks, but thicker. It has many advantages to be widely used in inflatable products. PVC material is good strength and tear resistance, cheaper than Hypalon, easy to be welded and patched, the PVC-coated fabrics come in a larger array of colors than Hypalon or neoprene coated fabrics, so PVC inflatable products are usually durable, portable and convenient.
But every material has its negatives. PVC material is not as resistant to chemicals, gasoline, temperatures, abrasions and sunlight as Hypalon-coated fabrics. UV rays can be damaging to PVC, so you need to use a UV protectant spray to care your inflatable boat.
Hypalon
Hypalon is another common material used to make inflatable boats and folding kayaks. It's a synthetic rubber, noted for its resistance to chemicals, temperature extremes and UV rays. In addition, it's also very resistant to environmental factors like mildew and fungus. The Hypalon-coated fabric with polyester, nylon or neoprene interior is known as the most reliable and durable inflatable boat fabric, so many inflatable boat materials choose Hypalon as an exterior coating because Hypalon will last the longest out of any other inflatable boat material. That's why you can enjoy a warranty of 5 to 10 years with Hypalon inflatable boats. The U.S. Military and Coast Guard are using Hypalon coated boats.
Hypalon is basically better than PVC in all aspects, but it's much more expensive than not just PVC but also many other materials. Also, Hypalon material is glued as opposed to welded.
Nitrylon
Nitrylon is a lamination of nitrile synthetic rubber and natural rubber over a 1200-denier, low stretch polyester fabric, is a new and much more eco-friendly material. It's very puncture and abrasion resistant, stronger than PVC, easier to patch than PVC and performs better in cold weather. But it's very heavy so may not suitable for any inflatable boats need to be portable. Usually it's only used on the outer chambers of the boat where there will be the most wear and tear.
The above difference of three inflatable boat materials may not affect your choice of which inflatable boat to purchase, they are all very strong to withstand some pretty harsh conditions include cold and extreme heat. So you don't need to worry about the safety of your inflatable boat. Even if it has a puncture while you are on the water, most of inflatable boats have three main air chambers so you will stay afloat and able to get back to shore, and it can be patched easily with the repair kits.
Although the inflatable boats are so strong, you still need to maintain properly to make it last longer, such as spraying with UV protectant spray, storing out of direct sunlight, etc.
Buy good quality inflatable boats
from Sunjoy Inflatables, no matter what material you like, you can custom at reasonable price.