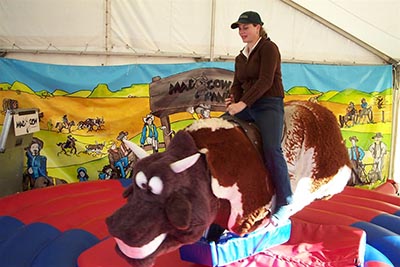 Inflatable mechanical bull as an exciting and safe indoor sport game, is very popular for party rental business and a bar or restaurant. Whether in winter or summer, people love to try this challenging game with friends or families, both kids and adults can ride a soft padded rodeo bull at any parties or events. So, as the related business owners, you may consider to buy an inflatable mechanical bull to develop your business. For small business owners with little budget, buying a second-hand mechanical bull may be an inviting idea to save money. But the true fact is that it won't save you as much as you think. Let's see why buying a brand new mechanical bull is better than buying a used one.
1. The appearance matters
The purpose you
buy a mechanical bull
is to attract new customers, but a dilapidated second-hand goods may not be as attractive as you think. People are all appearance animals. There is no doubt that customers will choose to ride a nice looking one between a brand new and a used mechanical bull. If you buy a shabby inflatable equipment, people will not only like it, but also doubt the strength of your company. So it's very important to show customers the best part of you and your business. If a used mechanical bull can't help you attract customers, why do you want to buy it?
2. Original packaging and accessories
When you buy a brand new mechanical bull from the manufacturer, you can choose different packages, options and accessories. And when you buy a used mechanical bull from someone, you may not be able to find any available speakers and music and video input in the package. Therefore, you have to go to the stores to find and buy these necessary accessories.
3. Technology refresh
Like any other industry, the technology of mechanical bull control box will also changes and improves over time. The second-hand mechanical bull was probably produced many years ago and has long since fallen behind in technology. For some older mechanical bulls, you may have to use a small control panel with only a few functions, but the newest control box can allow you to preset many different riding modes to suit different riders. I don't need to tell you which will be more fun and enjoyable.
4. Warranty
Like any other products, a second-hand mechanical bull is usually out of warranty. You can not enjoy the technology support from the manufacturer when some day your inflatable mechanical bull suddenly not work. Buy new mechanical bulls, you will receive a three-year warranty and you can always call an expert if you run into a problem. Compared to the expensive maintenance costs, this second-hand mechanical bull is not much cheaper than a new model.
5. Safe operation
Before buying a used mechanical bull, you can't be sure if it works well. If there is a sudden technical failure during operation, it may cause injury to the rider. In this case, you should trust a brand new mechanical bull rather than a second-hand mechanical bull that doesn't know how many years it has been used.
Now you may know how to consider all the factors when choosing a brand new or a second-hand inflatable mechanical bull for your business. If you want to know more about the
mechanical bull prices
or other technological questions, please contact Sunjoy Inflatables today!