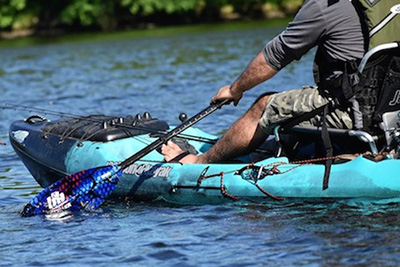 Like any other sports, kayaking will also cause you some uncomfortable body aches after you do it for more than an hour, especially for people who are not exercising regularly. Even for people who regularly participate in outdoor activities like kayaking and paddling, body aches and pains are no strangers. Some beginners may worry about the physical pains of their participation in kayaking so they think about it again and again. As an outdoorsy and sports minded person I can tell you for sure there will be some kayaking problems, you may want to be mentally and physically prepared before you start your first outdoor inflatable kayak paddling trip.
The following are some common kayaking aches and pains and how to avoid them.
1. Sore Back
Kayaking is usually a long time exercise for at least a few hours, after you finish a long day paddling on the water and get back on the shore, you may feel back pain. This is because your seat do not offer proper back support when you are paddling. Many kayak seats that come with your inflatable kayak are basically no back support or low back kayak seats. If you are prone to back aches and feel uncomfortable with your original kayak seat, you can take it down and buy another good high back with back band kayak seat to put it on your inflatable kayak. This is not an unnecessary investment, it is a necessary investment for your health.
2. Sore Bum
No matter what you are doing, you will feel your bum very uncomfortable after sitting for a long period of time without moving around, this is because your blood does not circulate through your hips when you are sitting, the weight of your entire body is pressed against the butt, causing blood circulation to be obstructed. So you need to stand up and stretch your body every once in a while. But when you are kayaking, it may be a little difficult for some people to get up on the knees and let the circulation flow back to the poor buttocks, so it might be a good idea to purchase an extra bum cushion which tends to really help.
3. Overall Body Pains
For people who don't exercise very often or bad kayaking posture, you may feel that your entire body and limbs start to ache after a while which can really put a damper on your paddling trip. This kind of aches and pains are something that you can't get help from foreign objects, you need to get more exercise and get used to it to build your muscles. At the same time, learn the right kayaking posture and how to do the proper strokes. Sit up straight in your inflatable kayak with your feet propped up against foot rests to help stabilize your back, use your torso and stomach muscles instead of your shoulders and back to relieve the pain. After you take some time building up your core muscles, you will feel getting stronger and all aches and pains are disappeared. This is another reason why people love kayaking besides entertainment.
You only have to try it yourself to find out what problems you will encounter with kayaking. Buy yourself a suitable inflatable kayak to start this spring. And don't worry about the safety, inflatable kayaks are practically unsinkable, even when they are full of water. You can buy a 303 UV protectant to help you keep it for many years. Come to sunjoy and custom your unique
inflatable boat
with top quality!