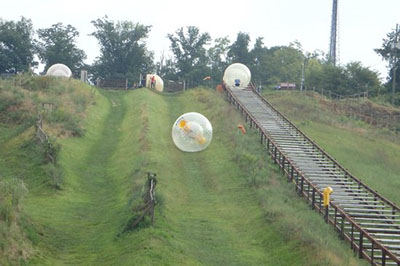 Lately, there was a very hot Chinese sci-fi movie The Wandering Earth. The audience can see that the characters used a zorb-like escape ball to save their lives. Then we can't help but think that the inflatable zorb balls seem to be really safe. Since the creation of zorbing, more and more people have begun to know and like this extreme sport. But for most of us, the safety has been haunting our minds. Today, let's see a few of the zorbing accidents and learn how to ride a zorb ball safely to avoid being injured.
In 2013, a tragic zorbing accident took place at a ski resort in Russia. Two Russians decided to strap themselves into an inflatable zorb ball and rolled down the ski slope. Unfortunately, the zorb ball has breached the unfenced ski track and ended up rolling off the mountain side and into the precipice. As a result, one guy was killed and the other was seriously injured. What we should learn from this case? Never go zorbing because it's not safe? No! Isn't it common sense that zorbing on an unfenced mountain slope, covered in snow might have a bad outcome? A responsible operator will never let customers zorb at a random trajectory. As long as you follow the basic safety precautions, even zorbing can be a safe and thrilling activity.
In 2016, a 17 year old girl from England had an unpleasant zorbing experience in Poiana Brasov, Romania. In this zorbing accident, this young girl had both her arms fractured because the operators allowed her to roll downhill alone in a zorb ball designed for two people which would cause the ball's center of gravity to shift, and they forget to check if her harness was properly fastened. This inappropriate operating procedures has resulted in this accident. This tragedy would have never happened if they knew the common sense of zorbing safety.
From the above accidents, we can learn that before we walk inside this giant inflatable human hamster ball, make sure the operators follow the safety guidelines and they have special fences to keep the ball on a specific trajectory and stopping mechanisms to slow down the ball.
Although there are risks involved, but you will be safe to enjoy this extreme sport as long as you learn and follow the safety precautions.
1. Downhill Zorbing Safety
Downhill zorbing usually takes place on land, and you can choose to ride this human bubble ball wet or dry. For wet zorbing, the operator will fill a few gallons of water into this giant ball you get inside, so that you can slide on the bottom of the inner ball whole the big inflatable ball travels downhill. Unlike the dry zorbing balls, the wet zorbing ball has no harness inside and the entrance is very small to prevent the water and rider from falling out while it's rolling.
Inside a dry zorb ball, there are harnesses for the rider's chest and feet and handles for grabbing. One of the most important safety precautions is to check whether your harnesses are properly fastened. In addition, most of this type of zorb balls are designed for two riders to balance the weight. If only one rider inside it may cause unbalance inside the sphere and the ride go off balance. So keep that in mind.
The safety tips for downhill zorbing include proper inflation, fasten harnesses and right riders. The total weight of the riders should be under 180kg. If you are prone to motion sickness, it's not recommended to try the harnessed zorbing. Remove all your jewelry and other sharp objects before you go inside this human hamster ball.
2. Choose A Safe Zorbing Track
If you are going to a local park or resort for zorbing sport, make sure they have well-built tracks that are specially designed and suited for zorbing. The standard zorb ball track should be well covered in grass, no huge bumps that would cause the ball to lift off from the ground, and there should definitely be safety nets or special fences all along the edges of the ride, to prevent the ball from going off course. At the end of the track it should be a building up earth mound to slow the ball. A safety net between two trees is not advised. If the operating park does not have a standard zorb ball track, you shouldn't go for it.
If you choose to go zorbing all by yourself, you should be very careful of the location you pick. It should be a gentle slope with a long surface of flat area at the bottom to help stop your rolling, absolutely no river, pits, sinkholes or any other type of dangerous terrain. You can imagine how dangerous it would be to zorb from the top of an undeveloped terrain such as a ski slope. Now, with our high quality
inflatable zorb ball tracks
, you can enjoy zorbing indoors or at the backyard. Roll inside an inflatable bubble ball to play human bowling or go kart games within various inflatable race tracks.
3. Water Zorbing Safety
When it comes to water zorbing, there are also two types of water zorb balls there. The first type is the common double-layer zorb ball that you can walk or tumble inside. This inflatable ball can float on the water so you will be safe if you don't go to unsafe water areas. In the movie Megalodon, there are tourists walking inside this giant zorb ball on the seashore. The only thing you need to pay attention to when zorbing on the sea is don't go too far away from the shore or meet a shark!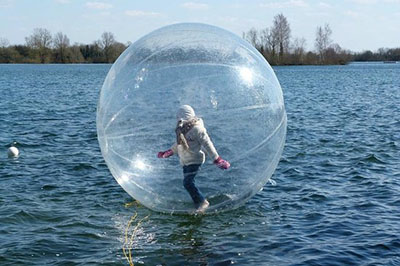 The other type of water zorb ball is the single-layer inflatable ball, which also known as water walking ball. These transparent bubble balls are filled with air and sealed tight with a zipper. So a rider can not stay inside for more than five minutes. And this water walking balls usually have a thread attached to them, so that a supervisor can pull you back to the shore when time is up. You can walk on the water with this water walking ball, but you can't control the direction it goes, so you need a person on the shore to pull you back. You will be very safe under the supervision of a trained operator.
But if you want to buy an inflatable water ball for home use, don't take it to the river, lake or sea, use it on your swimming pool only. And keep in mind to keep it out of reach of children when you're not around. Use it under supervision of another person whenever possible.
Now you know the basic safety guidelines of zorbing and all related activities. No matter you are going to try these fun and safe sport yourself or invest in a zorbing amusement park business, safety is always take priority. Browse our pages to find more high quality
zorb balls
,
water balls
or
bumper balls
for your adventure and business, any safety questions please contact sunjoy today!