There are a variety of inflatable boats are specially designed for fishing, they are convenient and useful for many fishing enthusiasts, pick your favorite one to enjoy recreational water sport.
With the development of inflatables, owning a fishing boat is no longer an expensive thing for fishing enthusiasts. There are a lot of affordable but safe inflatable boats in the market can be used for fishing, you can even find some small boats that specifically designed for fishing. With the portable inflatable fishing boats, more and more people are giving up their heavy hardshell boats. With its portability, you can do more fun water sport activities with inflatable boats in addition to fishing, such as paddling, traveling, camping, etc. Let's see what are so great of inflatable fishing boats.
Benefits of using inflatable boat for fishing:
1. Inflatable boats are easy to carry around
That means you can carry your inflatable fishing boat to any water you want to fish. They can be inflated and rolled into a small package and then stored in your car trunk. For some of the most inaccessible deep forests, you can pack your boat into a backpack and carry it over logs and fences to avoid the crowded and overfished areas. With a portable inflatable boat, any untouched river or lake can be your exclusive fishing zones.
2. Inflatable boats are easy to maneuver
No matter what kind of water condition, deep water, shallow water, white water, salt water, you can handle it with your inflatable boat. In addition, you can always add an outboard motor to access some difficult waters. With an inflatable fishing boat, you can fish anywhere you would like to.
3. Inflatable boats are extremely affordable
One of the most important reasons to choose inflatable fishing boats is that they are much cheaper than other boats. Many fishing enthusiasts do not have enough money to get a boat, but they can simply purchase a small inflatable boat. Therefore, everyone can go fishing as often as you wish without worrying about renting a boat.
Let's take a look at the different types of inflatable fishing boats that you can choose in the market.
1. Float tubes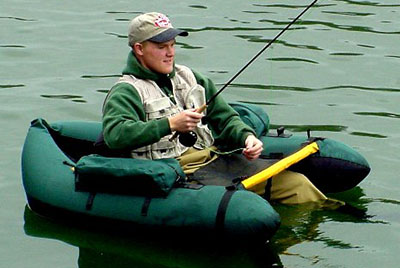 This is a very convenient inflatable fishing boat for one person, it looks like an inflatable seat floating on the water. Suitable for remote lakes and smaller water bodies with its lightweight feature. However, they do not work well in river fishing, especially rivers that have strong currents.

2. Pontoon boats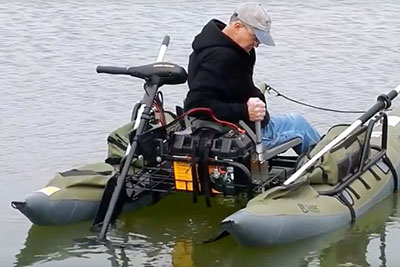 Inflatable pontoon boats consist of two large inflatable banana tubes connected together by a metal frame, can be used by one to three persons according to the sizes. They are also very portable and easy to paddle, suitable for the rivers and lakes.

3. Inflatable kayaks/canoes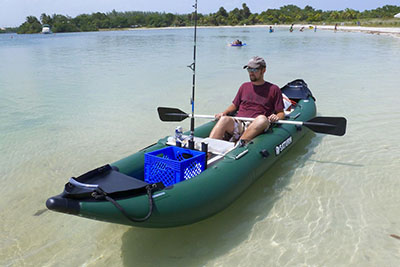 This may be the most common inflatable boat for fishing. Comes with comfortable seats for one or two persons, you can add additional sunshade, rod holders and trolling motor onto your fishing kayak for a long fishing trip. Easy to paddle and ideal for river fishing.

4. Inflatable rafts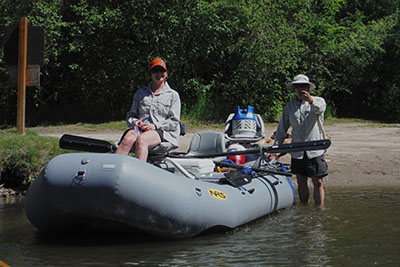 If you want to buy a more stable inflatable fishing boat for you and your friends, inflatable raft is your best choice. You can easily stand in the raft for fishing. They are designed for large weight capacity and provides a good recreational fishing experience.

5. Inflatable SUPs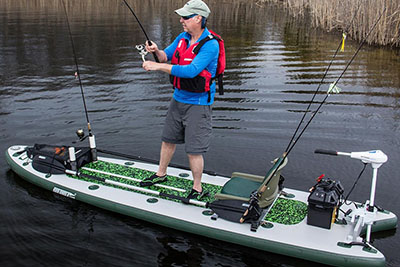 Yes, the inflatable stand up paddle boards can also be used for fishing. As you see, it only suits for one person, but extremely lightweight and portable. Ideal for lakes and shallow waters, but not suitable for rivers with rapids when used for fishing.
What to look for when choosing a good inflatable fishing boat?
Most of the inflatable boats are multi-purpose, if you are looking for an inflatable boat specifically designed for fishing, you need to consider the following features.
1. Adjustable seat
A comfortable seat allows you to sit on your boat for a longer time waiting for the fish to bite, and the supportive backrest makes it easier for you to fish for hours and without catching a backache.
2. Ability to stand in the boat
Sometimes you need to stand up in the boat to catch big fish, and you don't want to fear of the boat capsizing, so you need to check whether the inflatable fishing boat allows you to stand up or not.
3. Additional rod holders
If you want to use more than one fishing rod while fishing, or don't want to hold the fishing rod for too long, you will need the add extra rod holders on the boat. These rod holders can also store your fishing rods when you are not using them.
4. Storage pouches
An inflatable fishing boat should come with built-in storage pouches or extra space to attach your fishing bag. It must have place for your fishing gear and fish catch.
5. Outboard motor design
Most of the inflatable boats will not come with a motor, but they should be designed to mount an outboard motor for special use. You may not need to use a motor in your inflatable fishing boat, but you can if you need with this feature on your boat.
Now you can easily custom a high quality
inflatable fishing boat
from the manufacturer directly. Design, size, capacity, features are depending on your needs. Contact Sunjoy Inflatables today to get an ideal inflatable fishing boat solution under your budget!