The Independence Day is around the corner and it maybe a little bit late to start planning your Fourth of July party today. But never mind, if you are responsible for planning a 4th of July event for your community, you need to consider how to entertain every guest. July maybe the best time of year to be outside and everyone can have a great day with family and friends at your Independence Day party. Take a look at the entertainment options below to make your party more special and less stressful.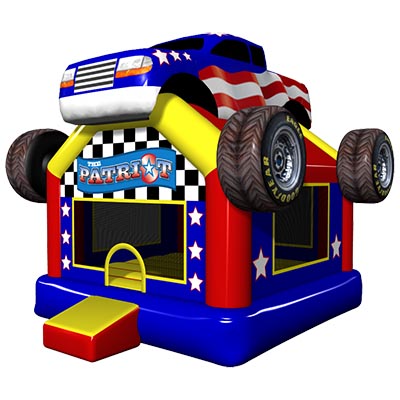 1. Patriot theme bounce houses
From a kid's perspective, nothing makes a party like a bouncy castle. The
patriot bounce house
is perfect for a 4th of July party. This kind of inflatable units usually have a decoration of bright red, white and blue colors, the Stars and Strips and a bald eagle. Young children will enjoy jumping and bouncing in this inflatable jumper decorated with a giant monster truck to show off your patriotism like "Proud to be an American!" This model maybe extremely popular on the fourth of July, so you need to call more rental companies to book in advance.
2. Camouflage obstacle courses
If you need another inflatable structure to entertain both kids and adults and show your pride for the military on Independence Day, then you may want to take a look at these military-inspired camouflage series inflatable obstacle courses. The obstacle courses can create fun competition among the party-goers, as the organizer, you can set up one separate structure or connect several different obstacle models to create an extreme challenge.
3. Other water inflatables
Nothing is better than an inflatable water slide to keep all your guests cool at a summer party. In addition to the inflatable water slides, you can also choose bounce house with wet slide combos, portable inflatable pool or frame pool and other floating water games, super long slip N slide, mobile inflatable water parks for kids. People will love cooling down on these large inflatables in summer, no matter what party you are holding.
4. Snow cone and slushie machine
In addition to the inflatable entertainment, another thing you can rent from the party company to keep children excited is the ice machine. These machines can make delicious ice creams and frozen drinks to cool off your guests and help you create a little old-fashioned carnival atmosphere. There are more options for you, cotton candy machine, popcorn machine, hot dog roller grill, etc.
5. Rent some tents
In addition to the tables, chairs, dishes and serving equipment, the shade tents are more necessary for your summer outdoor events. July is very hot and you will get sunburned outside. You can choose some common retractable tents or inflatable tents to offer the shade at the party, keep people cool and comfortable for the day. And the tents and canopies can also keep your party going even if it rains.
Contact your local party rental companies to make your 4th of July celebration unforgettable! The inflatable party jumpers are specific designed to celebrate great days and outdoor gatherings, if you want to buy one or two for the kids to play year-round, please contact Sunjoy Inflatables to custom the most fun and unique inflatable structure!