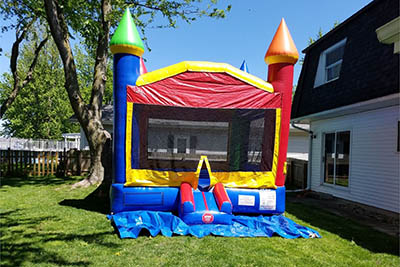 With the booming bounce house rental business, more and more young people choose to start their own business in this industry. As the beginners without any experience of running a small business, you may want to avoid the 10 common mistakes. One of the most common mistakes people start their own bounce house business when making decision on what inflatable to purchase is they buy a themed party jumper. For a larger rental company, there's nothing wrong to have themed inflatable bouncers, but as a start-up business owner with very limited budget, this is a huge mistake you need to avoid.
Some people may say that the themed inflatable jumpers are very popular and make a very good profit, that's right for well-known rental companies. For a startup company, you don't want the specific theme to limit your marketability. The first bounce house you buy should be the one that most people in your service area want to rent.
Which bounce house is the most appealing?
Some people may wonder that the princess bouncy castles are very popular, can it be my first bounce house? What will happen when you purchase a princess-themed bouncer as your first inflatable? It's very likely that there will be a potential client calls you up and asks for a pirate or dinosaur theme moonwalk bouncer for their 8-year-old son, but what you can offer is a pink princess bounce house which is not fit their party's theme. They will hang up and call your competitor. Therefore, you will lose a sale because your bounce house is too narrowly themed toward one specific type of client.
Then what types of bounce houses are the most appealing in the market? You can't satisfy everyone, so you need to choose one inflatable that can appeal most people. Based on our many years of experience, the world's most popular bounce house purchased and rented out is the rainbow series inflatable jumping house. It's not only one model, all rainbow colors bounce houses without specific themes are work for you.
When can I buy a themed bounce house?
Before you know your market, it's hard to say when it's a good time to add a themed bouncy castle for your inventory, Unless you have an extra investment, the market dictates the demand. If you haven't been in this industry long enough to allow you to collect a lot of market data, you may need to do a good amount of research to learn your market.
How to research your market? You can pretend to be a customer and call other competitors in your area to ask what options they have for bounce houses and what they charge for the themed inflatables. Add a poll on your website or Quora to ask others which type of bounce houses they would like to rent for their next party or event. If you are still not sure, add several themed bounce houses to your website but indicate that they are currently rented out, and see how many inquires you get. After you have learned what themed bounce house is appealing in your service area and you have the budget, you can start to look for your next themed inflatable bouncer.
In conclusion, it's not very suitable for an inflatable rental business owner to buy a themed bounce house as their first moonwalk jumper for children's birthday parties. The versatile and colorful
rainbow bouncy castle
is the most popular and suitable one as your first rental inflatable. Contact Sunjoy Inflatables to get your first bouncy castle or water slide or other bouncing games.