For people who live in the traditional hurricane zones that impacted by hurricanes and tropical storms every year, they generally have experience to protect their families and homes. For the bounce house industry, everyone knows that they can't set up an inflatable jumper and play in it during a storm. However, for some beginners in party rental business, they might not be really prepared for hurricanes. Some people never expect that a hurricane would have such disastrous consequences for their bounce house rental business. So how to protect your valuable inflatable equipment and other assets before the hurricane strikes? read the following to learn the steps you can take to safeguard your livelihood.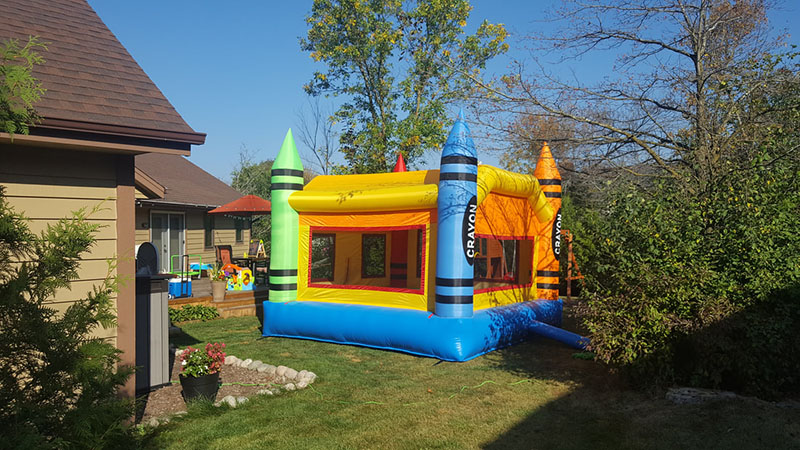 Step One: Have a Plan Before Hurricane Season Begins
If your party rental company is directly located in the path of hurricanes, it's crucial to develop a plan to deal with the hurricanes and tropical storms, and other hosts of terrifying weather events that created by hurricane season.
1. Check the National Hurricane Center's website for updates, barricade your windows to withstand maximum sustained winds.
2. Take a full inventory of your company's assets including vehicles,
commercial inflatables
, electric generators and blowers, other party supplies, steel stakes and other small accessories.
3. Identify your mission-critical inflatable bouncers that are the most important for your company's operations and profitability and then protect them the most.
4. Ask your insurance providers to learn about your coverage and liabilities and make sure you have adequate coverage as best you can.
5. Develop an emergency plan about how to evacuate customers in the event of a hurricane and what steps do employees need to take to fortify your business property. This would help ensure everything gets done and that no one is forgetting anything.
Step Two: Protect Your People
Your most valuable assets aren't
bounce houses
and
inflatable slides
, they are your employees. Update employee contact information so that you can easily reach your staff in the event of a hurricane. Hurricane drills are as important as fire drills. Your full staff should rehearse your emergency plan exhaustively so that everyone can be able to quickly and efficiently lock down the company's full operations and evacuate your facility smoothly, while securing your physical assets in the process.
Step Three: Fortify Your Property & Assets
1. Whether you store your inflatable equipment in your personal garage or a leased warehouse, the first step in protecting your company's assets is to board up windows and doors.
2. Make sure the drainage systems and gutters are free of debris and fully operational. Prepare to deploy sandbags and tarps along the bottoms of doors to keep minor and more moderate flooding at bay.
3. Make copies of your important data like receipts, invoices, customer contact lists, vendor contact info, and store them safely with additional offsite records as well.
4. Use ratchet straps and tarps to cover and firmly secure outdoor assets. If you have rolled up rental units outside or if your property has small sheds or similar non-permanent structures, secure these items to the ground firmly and use your tarps to keep them dry. Should those items come loose, they can vastly increase property damage in high winds. If you can fit it inside, do!
5. Check fire safety equipment like extinguishers, sprinkler systems, smoke alarms, etc. and make sure everything is up to date and functional.
Step Four: Develop a Recovery Plan
In the wake of a hurricane, the services of a party rental business aren't really at the top of anyone's agenda. So that you will have more time than other businesses to get yourself ready for a new birthday party for children.
1. Call your employees and see if they are okay and ready to get back to work.
2. Clean up and repair your property. Do it yourself if you and your available employees are qualified, or call the local contractors to repair your facility like damages roof and blown water mains, etc.
3. Review your company's assets and inventory. If anything is damages or destroyed, you can contact your insurance providers and vendors to replace and replenish your stock.
4. Clean up your floor and dry all your commercial inflatables if any of them get wet.
At last, remember that it's always better to be over-prepared than under-prepared. Your hurricane season preparations for your bounce house rental business are not just for hurricanes, they are also good for year-round events and disasters like flooding, tornadoes, snow storms, earthquakes, wildfires, etc. Prepare your company as much as possible and you can sleep a whole lot easier when a storm is heading towards your town.