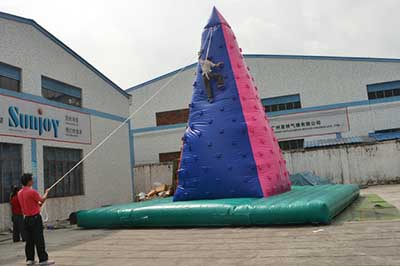 When you start your own inflatable rental business, you will be very exciting to see all the inflatable units you have and can't wait to rent them out. In addition to the commercial bouncers, there are some useful equipment for you to make your work more easier. You can consider to add these standard supplies to your orders while purchasing inflatables from the suppliers.
1, Hand trucks
A hand truck is a very useful tool to carry weight. The commercial bounce houses are very heavy, the larger units usually need to be moved by several men. The hand truck can be efficient and helpful to your carry work. It can save your time in the transport and reduce the undue wear and tear of inflatable units. A heavy duty hand truck can be suitable for almost all inflatables, don't skimp on investing the useful tools in your business.
2, Anchor system
The anchor system is related to the safety, and it's never overdo on the safety. An additional anchor system is also necessary. Every inflatable must be anchored on the ground during the installation, but not all the anchor systems of different inflatables are the same. So, in addition to the inflatable unit's anchors, you need another spare anchor system for all your inflatables. The additional anchor bag includes the extra stakes, ropes, sandbags and so on, to cope with different venues.
3, Ground covers
A high quality ground cover is also a useful equipment to protect your inflatable units. The commercial inflatables are high valved, if you place them on the ground without any protection, they could be damaged. So it's necessary to invest in the protection of your inflatables. A high quality ground cover can use the same materials as your inflatable, even better. You can order the additional ground covers from the factory so that you can get them delivered with your inflatable units and save the shipping cost. Please keep in mind that the Vinyl material ground cover is not suitable for the water slide because it will be very slippy when wet.
4, Cleaning supplies
Cleaning your inflatable units is another way to provide excellent customer service. People will come back to your company if they were satisfied with your inflatables. This should be an important place why you stand out from your competitors. The cleaning supplies include the special detergents, rags, a broom and a vacuum. With this cleaning supplies, you will find it very easy to your inflatable units have a bright new look. It's a good idea to have your cleaning supplies ready when customers come to see your inflatable equipment.
5, Repair kits
Usually the repair kits will come with your inflatable unit, but if you have run out of them, it's time to make a supplement. The repair kits can help you patch up small tears quickly and won't have to worry about taking the unit down and losing income. The maintenance of your inflatable units is the base ability to run an inflatable rental business.
As your business develops, you will get more situations and prepare all the useful tools you need. If you have any questions about starting or running your inflatable rental business, feel free to contact us. We have a variety of
commercial bounce houses
,
obstacle courses
,
water slides
,
sport games
, inflatable balls, tents and advertising inflatables for you.