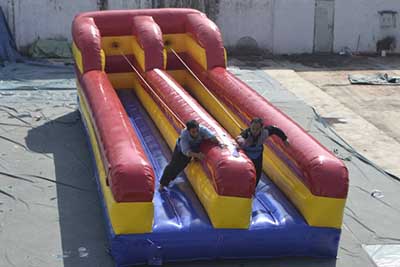 Team building is more and more important in the companies, can improve performance, boost company morale, increases staff's loyalty, creates and disseminates the corporate culture, which enhance the cohesion of the enterprise. If you are planning fun and perfect team building activities for your company, Sunjoy Inflatables can provides various of enjoyable inflatable games for you.
Foster communication and teamwork
Many interactive inflatable games need mulit-players to complete it together, such as inflatable football game, and all the interactive games are competitive, so players need to compete against each other to win the game. During the team building activities, all your employees work together, discuss together and then get to know each other. After they know each other's strengths and weaknesses, they can learn how to work with workmates and improve work efficiency. The interactive game is not just for fun, but also a chance to train staff's positivity and communication ability.
Creates more positive energy
Spiritless workers will make your company inanimate. You need your employees to keep an positive attitude on work everyday, so that everyone looks happy and gets the job done better. Playing interactive games can create tons of positive energy in the company, all employees have fun and laugh, you customers will love the smile on employees' faces. Sunjoy Inflatables has all the interactive inflatables you need to keep the positive vibe going in your company.
Healthy competition
Everyone in the society are competing with others, company has many competitors too. You win in the competition, you get the business. So, a company wants to improve the performance, the employees must learn how to compete. The competitive inflatable game is a perfect way to culture competitive spirit. You employees will learn from the inflatable games that they must work harder to stand out from others. Some people may not like to compete in the work, but they will like to compete in the games. Ideal competitive inflatable games include the obstacle courses, bungee run, sumo wresting and so on. When staff likes the feeling of winning, they will want to win in the work.
Celebration and motivation
After any business team of your company wins a season sales champion, you must reward them for company motivation system. If employees love your rewards then they will want to win more and bring their job to the next level. And if you have reached an important company goal, you can make a great celebration to thank your employees. The interactive inflatable games are much more fun and unique than the typical office party. Fun team building game to encourage a feeling of unity and pride in the company, it's something to look forward to and will create great memories for your employees.
Now you know how team building games can help your company and why team building is an important investment. If you want to plan some fun and exciting team building activities for your company now,
sunjoy's interactive inflatables
are your best choice. Contact sunjoy today to get more ideas of team building games!