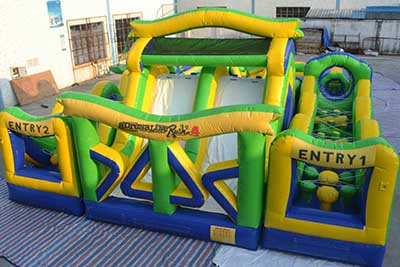 Nowadays we can see more and more inflatables in the parties and playgrounds, inflatable obstacle course is one of the fun inflatable games. It's usually combined with inflatable slide, bounce house and other obstacle bouncers. Because of its inflating properties, the obstacle course can be divided into water floating obstacle course and land obstacle course. Used on lane inflatable obstacle course are very popular in the birthday parties and carnivals and some fun sport games. If you want to make your child's birthday party more than a bounce house, then an inflatable obstacle course is perfect for kids of all ages. Let's see why inflatable obstacle course is so popular.
1, Recreational
The older children want to have more fun from the inflatable at their birthday parties, the simple bounce house can not meet their needs. So the inflatable obstacle course will be your best choice. The large-sized inflatable obstacle course includes crawl through holes, pillar walls, tunnels, fun jump obstacles, pop-ups, side bars, rock walls and slides, etc. Kids will have a lot of different ways to have fun with this large inflatable game. And the obstacle courses are usually two lanes design, which means that you can race against your opponent at the same time. Kids not only get fun from the inflatable, but also get satisfaction of competitive nature.
2, Educational
In addition to the entertainment, the
kids obstacle courses
are also helpful to children's learning and intellectual development. Kids don't have much experience about the society, they can learn and play some sport games that they have never seen, such as the rock climbing wall and military training items. They are also encouraged to think how to get through a new obstacle during different obstacle courses. If your kids play the inflatable obstacle course a lot, they will acquire some skills to crawl, climb, swing, jump and run and so on. Some researchers believe that the children contact with more sports will be smarter.
3, Healthy
As a sport game, bounce house obstacle course is good for your child's health. The fun game is a most easy way to make you kids get out of the room and have exercise outdoors. With the development of smartphones, there are so many funny mobile phone games for entertainment, sitting down and play the phone for hours is not healthy for children. They need to get some exercise everyday to avoid obesity. If they have got tired of bounce house, then the playful and challenging inflatable obstacle course will be a great option. Inflatable obstacle course will be more attractive than the phones at the parties, and make every kid moving for hours.
With the most fun and durable inflatable obstacle courses, it's not so hard to have great success in your party rental business. Even there is only one backyard obstacle course in your inventory, you can use it to increase your income by renting out to the family parties, school events and other festival activities.
Sunjoy Inflatables
can provide you a variety of commercial obstacle courses with affordable prices, we can make ideal solutions for your rental business with our years of experience.