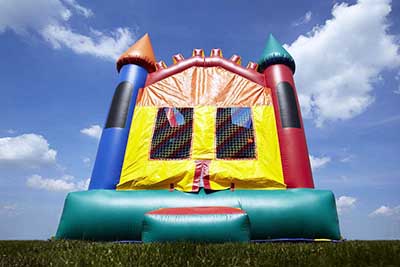 For those who have not experienced the bounce house in their growth, they might wonder what it can do except bouncing. But for little kids, there are so many creative ways to have fun with the bouncing house. A bouncy castle is a giant balloon palace that kids can do anything they want! Bouncing is the basic play, with the bounce actions, kids can play with an open mind. You may see our post the
fun games to play in a bounce house
, now please see more wonderful ways to play with bounce house by kids.
1, Used as a stage
The bounce house usually has netting sides for the spectators, so kids can use the inflatable as a talent show stage. Invite your parents and playmates to watch your funny show, gravity defying dance moves and other excellent performance. Kids will show their world to the parents and get the appreciation. Mom and Dad are busy? Don't worry, you can arrange some of your stuffed animals in front to act as the audiences and show yourself.
2, Pretend play
Several kids get inside the bouncy house to play this imitative game. You make some rules and everyone pretend their favorite cartoon characters or animals. Or all kids pretend the same character or animal and bounce around. The soft bouncy house is perfect for pretending frogs and kangaroos, because kids can easily jumping up and down. Parents can also add a competitive element to this game, such as give a reward to the best imitator to make this game more playful.
3, Cracking the egg
This game is another bouncing game for multiple players. Choose one kid to sit down in the middle of the jump house, wrapping the arms around the knees as as tight as he can, just like an egg. The other kids stand around the "egg" and bouncing as hard as they can, try to make the middle kid let go of his knees, that's so-called cracking the egg. Once the "egg" cracked, another kid can take his place to be the "egg" and bouncing again.
4, Create a magical world
The possibilities for play are endless, there are so many themes for the inflatables, kids can enjoy a lot of magical worlds. Children are full of imagination, they will use anything they can find to create a magical world. With beautiful digital printing, the giant inflatable bouncers can be the best places for them to explore.
Pirate ship theme
can bring them to a wonderful ocean adventure, the jungle theme can bring them to the forest and play with fantasy animals.
As an adult, what we can do is renting a
bouncing castle for the kids
, and let them play freely. They will show you their imagination and how fun they can get. Sunjoy Inflatables is one of the largest bounce house manufacturers from China, we make great inflatable play houses that encourage creativity and playfulness, the magical giant inflatable bouncers will open the windows of children's mind.