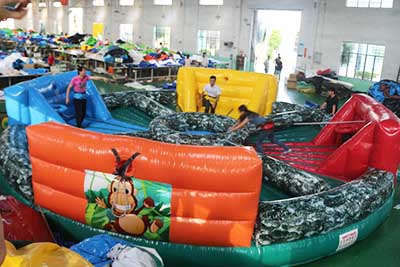 The inflatables were designed for fun use at the beginning, however, over the years of development, the inflatable industry has grown into one large market that offer so much more than just some toys for kids. The fun that inflatables provide to children is the main reason that inflatables become more and more popular, but they can be used for more than just fun. Some inflatable rental companies have begun to expand their business to the marketing, brand awareness, military and physical fitness training areas.
1, Used for advertising
With the development of business, many companies begin to attend the trade shows, fairs, industry exhibitions to search for more customers. So the trade show equipment has showed up. Inflatables are also developing in this area. You can find out many inflatables that will help your company stand out at the trade shows, such as inflatable booths,
inflatable tents
, inflatable arches, inflatable air dancers and giant inflatable mascots, etc. For the outdoor advertising, you can also use inflatable billboards to display your business information. All these giant advertising inflatables can be customized to match your company's name or business logo to build your brand awareness, and the crowd at the trade shows will be attracted by your colorful inflatables at the first glance. Besides, the advertising inflatables are lightweight and portable, easy to set up and take down, very convenient for company outdoor use.
2, Used for team building
As the inflatable games developed, there are more and more sport games can be played with inflatables, kids and adults can enjoy some competitive games and have much more fun than just bouncing. So, the interactive inflatable games are growing popularity in the corporate events. Play inflatable games on he team building days can make coworkers get together and know each other, they will learn some team-work and get inspired, building a better relationship in the team group. These activities not only helps constructing enterprise culture, but also increase morale and motivation. The fun interactive sport games include inflatable bungee run,
Hippo Chow Down
, Leaps N Bounds, Basketball Shooting, Last Man Standing and so on.
3, Used for military training
The inflatable obstacle courses are also used for the summer camp activities for the kids or physical challenges for adults. For some military training venues, the inflatable obstacle courses are perfect equipment for both kids and adults, they are challenging and safe. All participants must try their best to finish all the challenge to win the game, the obstacles will test their strength, speed, agility, skills and strain capacity. In some TV shows, challengers can complete the obstacle courses of different levels to win prizes. It's fun to participate in, but it's more fun to watch. You can get the
Boot Camp Challenge
or Xtreme Rush Obstacle Course for your amusement park from Sunjoy.
Inflatables are not just a bounce house at a child's birthday party, they can be used in many places. No matter what you use it for, as long as it come to inflatables, we can custom it for you. Sunjoy Inflatables is a big factory from China, we manufacture commercial quality inflatable pools,
water park games
, inflatable bouncers, interactive games, slides and obstacle courses.